The most incredible Adventure that can be lived on earth ?
If we believe that there is a God and that he created us in his image, then shouldn't knowing who this God is and who he wants us to become, be our passion and our leitmotif ?

Some Topics on this Page:


•  What is the Millennial Kingdom of Christ?
•  Lifeturn Testimonies.
•  Praise and Christian Artists to boost our Enthusiasm.
•  Why is God interested in our Sexuality?
•  Documentaries and Talk.
•  Prophetic Words for Today.
•  The Revelation of the Sons and Daughters of God.
•  John 3, or the New Birth
•  Not to lose Sight of the true Meaning of Life.
•  Coronavirus: How we can be Divinely Protected.
•  Divine Healing ? – For Everyone.
•  New Age: An enemy has sown Weed in the Church.
---
The Kingdom of Heaven can be illustrated by the story of a king who prepared a great wedding feast for his Son. When the banquet was ready, he sent his servants to notify those who were invited. But they all refused to come ! ...   Jesus, in Matthew 22: 1-3
The aim of this sharing is to make you want to know more about this God who loves us beyond anything we imagine. Maybe you thought you knew him? In this case, let's try to dig deeper. Your Father has a grand plan for your life that he wants to draw you into, if only you will put your hand in his.
Do you know that your browser can read text pages by voice? To do this, start by clicking on the "click to read more" box located at the bottom of the chapter introduction in order to scroll through the rest of the article. Then switch to reading mode by clicking on the small icon appearing directly next to the site address (Mozilla Firefox). In the new layout that appears, select the headphones. You can then choose a language, a voice and the reading speed. Simply click the "read mode" icon again to return to normal viewing mode. Some devices like the iPhone can also speak out selected text.
---
The thought of the month — September 2023
After the long and substantial column from August which I encourage you to read if you have not done so, I intend to be shorter on the September one. God just gave me a dream, so I will quote what I was told. In this dream, I was walking in the midst of a flow of people on a highway. People talked about their activities, speaking in particular and in an almost religious way of a place to visit absolutely. Some called out to me and I had to answer. But Jesus was also there in a discreet way, and he grabbed me by the arm and led me aside to the shelter of a bridge. The road was full of people and the place had nothing to please, but Jesus said to me: "I give you my peace. I don't give it to you like the world gives it. So don't worry and have no fear in your heart," and he insisted that I hear it. These words are actually written in John 14: 27 and I will quote this passage because it is relevant for all who have put their trust in Jesus. As the world stirs and seeks, and chaotic days are ahead, the Holy Spirit becomes for all who cling to him, their peace and their assurance and a place of rest.
Jesus Promises the Holy Spirit
"If you love me, keep my commands. And I will ask the Father, and he will give you another advocate to help you and be with you forever— the Spirit of truth. The world cannot accept him, because it neither sees him nor knows him. But you know him, for he lives with you and will be in you. I will not leave you as orphans; I will come to you. Before long, the world will not see me anymore, but you will see me. Because I live, you also will live. On that day you will realize that I am in my Father, and you are in me, and I am in you. Whoever has my commands and keeps them is the one who loves me. The one who loves me will be loved by my Father, and I too will love them and show myself to them." Then Judas (not Judas Iscariot) said, "But, Lord, why do you intend to show yourself to us and not to the world?" Jesus replied, "Anyone who loves me will obey my teaching. My Father will love them, and we will come to them and make our home with them. Anyone who does not love me will not obey my teaching. These words you hear are not my own; they belong to the Father who sent me. "All this I have spoken while still with you. But the Advocate, the Holy Spirit, whom the Father will send in my name, will teach you all things and will remind you of everything I have said to you. Peace I leave with you; my peace I give you. I do not give to you as the world gives. Do not let your hearts be troubled and do not be afraid".
Isaiah said on behalf of God to his contemporaries in a period which, if you read chapters 30 and following, already announced the end of a world and the advent of a new order, which is not the one to which some of us are working :
"This is what the Sovereign Lord, the Holy One of Israel, says: "In repentance and rest is your salvation, in quietness and trust is your strength, but you would have none of it. You said, 'No, we will flee on horses.' Therefore you will flee! You said, 'We will ride off on swift horses.' Therefore your pursuers will be swift! A thousand will flee at the threat of one; at the threat of five you will all flee away, till you are left like a flagstaff on a mountaintop, like a banner on a hill." Yet the Lord longs to be gracious to you; therefore he will rise up to show you compassion. For the Lord is a God of justice. Blessed are all who wait for him!". … People of Zion, who live in Jerusalem, you will weep no more. How gracious he will be when you cry for help! As soon as he hears, he will answer you. Although the Lord gives you the bread of adversity and the water of affliction, your teachers will be hidden no more; with your own eyes you will see them. Whether you turn to the right or to the left, your ears will hear a voice behind you, saying, "This is the way; walk in it."
This chapter is paradoxical, because it juxtaposes the blessings that God gives to those who put their trust in him, with the judgment that falls on the world. And beginning in chapter 32 we see the coming of the King of righteousness. Paul also encourages us not to give in to this spirit of fear which in reality is a spirit of unbelief, but to rely on God in our moments of prayer.
"Let your gentleness be evident to all. The Lord is near. Do not be anxious about anything, but in every situation, by prayer and petition, with thanksgiving, present your requests to God. And the peace of God, which transcends all understanding, will guard your hearts and your minds in Christ Jesus". Philippians 4: 5-7.



DELIVERED for a PURPOSE | Lana Savchuk

If you feel sorrow and sadness in your soul, or like your life is a continuous fall and don't know how to face it, how to overcome the pain and the bitterness, Lana shares her testimony of her deliverance and the lessons she learned through that process. The main lesson being perhaps that since we live in war zone, we are not what we experience in our mind, and God wants to deliver us from all our torments. But emptiness cannot be filled by nothingness. We should surrender to the Holy Spirit and a sense of adoption instead of surrendering to our situation.






Vlad Savchuk — Holy Spirit wants to Help you in all Aspects of your Life.

Without the Holy Spirit, any Christ-like attitude will be seen as false, and rightly so. But when the Spirit of God dwells in us, he inspires us and takes charge of our attitudes and actions. We just have to decide to obey him humbly rather than our rebellious impulses.






"Chosen Ones" Can't Work a 9 to 5 job ?

"If you're working a 9 to 5 job to pay bills, there is nothing wrong with that. But just keep in mind that your "work" goes way beyond just making money. You're here to bring the light of Christ to the world, to heal, to transform, to INSPIRE!!! Don't let ANYONE dim your light because you were meant to SHINE, beloved!".  Connie K Yom.



---
The thought of the month — August 2023
Some topics covered in this month's message :
•  What is the place of the Christian in this world and in this life ?
•  When a night dream comes that shatters the dream we had for our life.
•  Jesus has a very particular way of approaching a family's unity.
•  Why was Jesus crucified ?
•  Sometimes God speaks to a child, but really he wants to speak to the adults.
•  How does Jesus save us and from what, and what is the true hope of Christians ?
"I have in my heart a great sorrow and unceasing anguish".
This month, I would like to share with you a dream I had when I was a child. This dream and what surrounds it had such an impact that my life was turned upside down. To the point that I had not dared to speak to anyone about it. The memory came back to me in the fall season of my life when I was sharing with a friend, and I will tell you about it a little later. The words quoted above are actually from the apostle Paul. This otherwise good-natured, educated, communicative and passionate man, and who at another time exhorts the Philippians to always rejoice in the Lord, turns back in one of his letters, on those who transmitted to him the existence, the knowledge and the faith, with this bitter ascertainment. Paul obviously loves his family, his masters, and his people.
"I speak the truth in Christ—I am not lying, my conscience confirms it through the Holy Spirit— I have great sorrow and unceasing anguish in my heart. For I could wish that I myself were cursed and cut off from Christ for the sake of my people, those of my own race, the people of Israel. Theirs is the adoption to sonship; theirs the divine glory, the covenants, the receiving of the law, the temple worship and the promises. Theirs are the patriarchs, and from them is traced the human ancestry of the Messiah, who is God over all, forever praise !  Amen".   Romans 9: 1-5.
Paul received revelations that turned his life upside down, but he is not one of those who gladly forsake their fellows to live their faith on a desert island. He wants everyone to be like him, except for restraints, by becoming new creatures liberated in Christ. The others did not follow his example. So he mourns, even going so far as to wish he had never known what created this split with his family which he knows will be an impassable chasm in eternity. In other words, Paul knows he will never see his own again. Their paths separated when they decided to persevere in their human traditions rather than accompany Paul on the path of light that presented before all Israel. This luminous path, Paul had not really chosen it. But the meeting was frontal, while he was on his way to Damascus where he intended to persecute the disciples of Christ to force them to deny their faith and return to tradition. He who touches the disciples of Christ, touches God himself, he will learn. By his punitive zeal, he thought to show that he saw clearly in the actions of these impediments to go around in circles. True Christians are disturbing. They are from another world, and even Jesus' mother and brothers were completely distraught by his actions. In reality, without being fully aware of the prophecies, no one could understand Jesus, and besides, even the specialists of the law saw nothing coming. It was God's plan. But compared to the light of man, the light of the Son of God proved to be blinding. Confused and no longer understanding anything, Paul gave himself up to the Holy Spirit who then seized him by the hand and did not let go of him, for we know from his epistles all that God has accomplished through him. Paul, now a "slave of Christ" in his own words, knows very well that he has done nothing to deserve this grace. He feels indebted to his people. The thought of the fate reserved for them remains for him a subject of dread, and it is a perpetual torment. For they are, as himself was not so long ago, cursed by their choice, having as the Bible puts it, doomed themselves to outer darkness by their rejection of the only path to salvation. And yet, although they stoned and beat him many times and several of them went so far as to vow to take his life, Paul, walking in the Spirit of Him who became accursed for us, wish he could be cursed himself should it allow some of his people to be saved. Very aware of the religious ignorance of which he himself had been the victim, he feels anguish for those he left behind and who, without a burst of conscience, will be lost for eternal life.   ( … )
(Click to read more…)
---



Vlad Savchuk — How To Become Spiritually Stronger By Praying In Tongues

In this month's sharing, I emphasized the need to be a born-again Christian. One of the gifts given to us by the new birth is speaking in tongues. This gift will help us to subdue our souls and become who we are meant to be in Christ. This will make our prayer life more effective. Christians who are led by the Spirit rely on this practice.



Catholics Come to Christ After Hearing This

One thing has been responsible for bringing a lot of Catholics to a genuine faith in Christ recently. In this video, Ray Comfort, Emeal ("E.Z.") Zwayne, and Mark Spence explain in great detail the issues with Catholic doctrine and why so many Catholics decide to become born again.



Watch Truth make its Way to her Heart – Very Moving interview from Living Waters

There will be joy in Heaven for every heart that finds its way back to Truth and to God, said Jesus.




A Reminder : Marriage between a man and a woman is based on the same model as our own relationship with God.
Marriage Is Like A Garden

In the beginning, God created marriage. But today, in our culture, marriages are under attack. The culture has deconstructed the principles of a true godly relationship. The marital union must be maintained like a garden. You have to sow, plant, pull weeds and sometimes kill the snakes.



How to overcome Lust, for Christians

Why and how to overcome pornography addiction, masturbation and fornication.






Sexual Purity In Relationships

Purity is being without mixture. Purity is who you are after the temptation, not before. Purity is the path to the palace. Purity is the path upon which relationships travel. Purity will cost you, but so will compromise. Purity is not passive but aggressive.
After the Intro, Vlad and Lana Savchuk discuss on their relationship from 4:54



How to Walk in SEXUAL PURITY (For Singles and Married)

Purity is not only for those who are not married but also for those who are married. Virginity is till marriage but purity is for life.



The Spiritual Battle for Your Marriage

Generational curses, Addictions, Spiritual spouses, Abuse and trauma, Soul ties, Spells or psychic manipulation are some of the topics approached in this needed teaching.



4 Ways to Overcome SEXUAL LUST

"A prince will always lose his place if he becomes a prisoner of his passion". Vlad Savchuk shares great hinsight on obsessive love from the story of Amnon, son of David.

In this other stream, four pastors come together to share on their own battle against lust. It is a major issue which can cost you eternity.






Hello Divorce — When you Have to flee an Abusive Relationship

Many conflicted marriages result in exceptional marriages once the logic is changed. But sometimes things aren't supposed to get better and you need to take control of your life. One of their collaborators offered me to put a link to Hello Divorce, which means that at least one person in the world reads these chronicles. Hello Divorce will help you work things out by mutual agreement while ensuring that your divorce will not be an insurmountable expense.



This Month's resources



Amir Tsarfati — The Hope of Israel

From its institution as a nation, the hope of Israel was never found within the people themselves. The foundation of their hope was – and is to this day – sourced in their God. But when the Bible speaks of the hope of Israel, who or what is it referring to? Join Amir as he takes a journey through the Scriptures to identify the hope of Israel past, present, and future. Along the way, you'll discover that this hope not only applies to Israel, but to the whole world. Who is Yeshua Hamashiach really?

Man shall not live from bread alone…

The Word of God is food for our spirit, this part of us which we inherited from God. Why not start your journey today? You can either read it, and it is by far the best way of approaching a personal God through his word. Or if this suits you better, you can also listen to a reading of the Bible.

The Bible Hub

Reading and studying the Bible for yourself is very rewarding.



---
The thought of the month — July 2023

It's one to midnight, so read your Bible!   – A meditation around Isaiah 40.

You are not forgotten.

Why do you complain, Jacob? Why do you say, Israel, "My way is hidden from the Lord; my cause is disregarded by my God"? Do you not know? Have you not heard? The Lord is the everlasting God, the Creator of the ends of the earth. He will not grow tired or weary, and his understanding no one can fathom. Isaiah 40: 27-28.
In these times and with the uncertainties hovering over the world in this climate of a new potentially devastating world war, many people would like to be able to hear the voice of God, so that he tells them to begin with, who they are, and where they are going, and in order to be reassured about the future that awaits them. The psychics are not about to close their alcoves, even if they trade in self-fulfilling nonsense. Christians do not escape this very risky quest for information. Each time a video on Youtube mentions the word "prophetic", it meets an instant success, and unfortunately often wrongly. From time immemorial, the God of the Hebrews has revealed himself as the God who speaks to his people.
"Now, Israel, hear the decrees and laws I am about to teach you. Follow them so that you may live and may go in and take possession of the land the Lord, the God of your ancestors, is giving you. Do not add to what I command you and do not subtract from it, but keep the commands of the Lord your God that I give you." Deuteronomy 4: 1-3
Our God has many things to tell us but his message is simple.
Because, unlike the silent idols of other peoples, the God of Abraham, Moses and David has always made it his mission to instruct his people, and he has done so through the history of a family whose the journey is now compiled with all the details that may interest us in this masterful work that we call the Bible. The Bible teaches us that we must accept the notion of conditional happiness. Our long-term prosperity is directly linked to our obedience to the precepts set forth by God. This is not about being legalistic, because our justification comes from faith in God and not from our works, as explained in Romans 4. But God created the world on both physical and spiritual laws. However, to have faith in God is to add faith to his promises, as opposed to having faith in what we observe or in what the world tells us or in its predictions. The Bible is full of teachings at every level. Jesus validated the Scriptures by repeatedly quoting them, saying that the Scriptures foretold His coming and speak of Him, and He sealed the book of revelation in Revelation 22:18:
"I warn everyone who hears the words of the prophecy of this scroll: If anyone adds anything to them, God will add to that person the plagues described in this scroll. And if anyone takes words away from this scroll of prophecy, God will take away from that person any share in the tree of life and in the Holy City, which are described in this scroll."
But today, with all the scientific advances and increased knowledge, is the Bible no longer enough for us, and do we really need to hear new things? The many evangelical sects that flourished in the past century have taught us that error is not the prerogative of the Mormons and the Jehovah's Witnesses. … (Click to read more).



Most Christians Don't Know THIS About Babylon

Martyn Iles presents Living in Babylon, a program about being a Christian living in an anti-God society. He is joined by special guest and international classical tenor Philip Webb. Answers in Genesis is an apologetics (Christianity-defending) ministry dedicated to enabling Christians to defend their faith and proclaim the good news of Jesus Christ effectively.




Amir Tsarfati – Stand Like David

When a crisis occurs, who are the cowards to blame? Not the problem makers, but those who oppose it. This is what is happening now in politics, in the church and in the world.




Healing – Curry Blake South Africa, June 2023

Being a practical person myself, I am naturally attracted to biblical teachings that are realistic, practical and promising. When it comes to walking with God in a new identity and seeking healing for yourself and others, I have heard nothing better than the teachings of Curry Blake, which stand the test of time.




Jesus Said 2 Words to Me in Heaven That Wrecked Me

Disappointments in life can litterally kill you if you are not prepared. That's what happened to Randy Kay. He died, but Jesus met him on the other side. What Jesus showed him he does with our tears wrecked him. What was it? Well you can ask Randy if you meet in on a San Diego beach, but you can also simply listen to his message.




Kevin Zadai – What Jesus Told Me About Righteousness Wrecked Me

Kevin Zadai shares what Jesus told him in Heaven about justice and being righteous. Our attitude towards God determines much of what our life is made of.




Lauren Daigle's Sincere Testimony

What did you dream of as a child? Lauren Daigle shares her testimony and what she experienced with her God-given vision. God is the restorer of broken dreams.




"What's the Meaning of Life?" – Richard met God in an out-of-body experience.

Unreligious Man Dies & Meets God During Surgery, Asks Him "What's the Meaning of Life?" The answer moved him and also moved me when I heard it, because it is something that we tend to forget when we are caught up in the battles of life... The encounter Richard had on August 16, 2005 changed his life forever.




War on WITCHCRAFT with Jenny Weaver

How can a Christian young girl open herself to the demonic through listening to music and watching certain movies, become a whitch and a drug dealer, end up in jail, drag all her demons back to church and lead worship, and finally be set free and become a truth teller who is able to help many young people who have been there ? An amazing testimony.
Also: EXPOSING WITCHCRAFT IN THE CHURCH.




Do This to Stay on Fire for God !

How to see more of God in our lives? Simply by walking closer to him. And to do that we need times of fasting in order to suppress our lust for carnal things. Fasting will not make us more worthy but it will definitely help us focus. We will only live in the fire to the extent of your ability to overcome excuses of the flesh.




Momentum Breakers: Dreams, Visions and Unrealistic Expectations - Kevin Zadai

Years ago Kevin Zadai died and went to heaven. The Lord Jesus showed him a number of things and then sent him back. This man has seen extraordinary visions and he has an amazing understanding of some aspects of the things of God, much like the early disciples of Jesus. There is so much more we can live than just playing church. Yet, in this teaching, he reminds us that it is of the utmost importance to stay aligned with the Word of God, which is in the Bible. A very relevant lesson for our time where trends carried by certain movements tend to move us away from the truth.

---
The Thought of the Month, June 2023
"A pat on the back is six inches away from a kick up the ass." — Geri Halliwell.
True friends will not only help you stand up for yourself, but they will do whatever it takes to help you grow and progress.
A rainy, windy and cold spring and a summer that is late to show up – many of us are complaining about this delay in the arrival of the nice season. It is as if sometimes, time was suspended. However, we must accept that "time takes its time". God knows better than anyone that it is necessary to replenish water reserves before the heat of summer. The plants must also have had time to take root in deep soil before drier weather arrives.
The prophets of the Old Testament were often hated by their contemporaries, even and especially by those who considered themselves pillars of the society and the religious system. For, by what right did they come to disturb their party by their constant warnings which raised some of their shortcomings, preventing them from simply turning in circles ? Jesus was no exception to this detestation, and I suspect that the things I pass on will not all be unanimous. As I talk with other Christians, I find that many are expecting an imminent revival… (Click to read more).
Do you believe in serendipity, that happy coincidence that brings you in front of the people or the options you need when you need it? Thanks to algorithms based on the choices of its users, Youtube has surprised me more than once by proposing timely messages. Remember, however, that there are always two directions to choose from: the broad way and the narrow path. You can also protect yourself from inappropriate solicitations and disreputable content by setting your Youtube preferences. There are ways to avoid the interruptions made by commercials too.



INRI Motivation

Is your God distant and uninvolved in your practical life? Jesus of Nazareth is King. INRI Motivation introduces us to this other God: the one who wants to be our companion in the reality of our daily life. Do you desire a new sense of God's direction, a better position, a companion for life? God has a supernatural provision available to you, but you must ask for His wisdom.
Praise and worship Him that is on high




Lauren Daigle – "You say"

Am I just the summ of every high and every low, of what I think of myself? No, of course. However, we seem to demonstrate it when it comes to having faith. Lauren Daigle reminds us that what we think of ourselves must bow before what God thinks and says we are. "You Say"




Chandler Moore, Naomi Raine, Aaron Moses | Best and most played gospel songs 2023

I'll never be more loved than I am right now
Wasn't holding You up so there's nothing I can do to let You down
Doesn't take a trophy to make You proud
I'll never be more loved than I am right now.



See what great love the Father has lavished on us, that we should be called children of God! And that is what we are! The reason the world does not know us is that it did not know him. 1 John 3:1





To Live in Christ – "I Love You… because I Love You."

Paul Washer reminds us of what God said, and says again: My love for you didn't start with you, it doesn't last because of you, and it won't end with you. It started with me, it's in me and it will end with me. You yourself being born of me, I love you and who are you to think you have to deserve it?




Power Pours Out Of Your Spirit | Curry Blake

It is amazing how many people think that you have to earn the ability to be used by God. It's not earning the ability, but it is simply comes to be ready to be used.




How To Activate and Release the Power of God | Curry Blake

One more step in the knowledge of God. Very useful bases in a Christian context where too many false conceptions tend to dominate the scene.

What is Going On




Rabbi Live – What's Going On?

"Beloved, there are dark and sinister forces at work across our nation. I want to make you aware of their true agenda and the ungodly outcome they desire. My goal is to help you to be prepared to overcome the deceit that has come upon us and be equipped to stand." – Rabbi K. A. Schneider




Rabbi Live – Is This The End ?

Is this the end of the world ? Why, when and how will the end come ? Join Rabbi Live as he shares on the current climate of the world today. A really deep motivational message from the heart of God for the days we live.




The HORRORS of TRANSITIONING!

Delve into the unspoken horrific reality of transgender sexual reassignment surgery and all of the pain, regret and horrors it entails.

"Jesus said to them, "Do you believe now? The time is coming, yes, it is already here when you will be going your own way. Everyone will go to his own house and leave Me alone. Yet I am not alone because the Father is with Me. I have told you these things so you may have peace in Me. In the world you will have much trouble. But take hope! I have overcome the world!"   John 16: 31-33.



5 Shifts You Need to Make to Walk in Dominion – Vlad Savchuk

Lessons from Moses and Joshua : 1. God removes people to bring you into your purpose. 2. God removes provision to bring prosperity. 3. You can't conquer if you are not consecrated. 4. Build memorial stones to what God did, not monuments to what He didn't do. 5. You don't get what you are promised, you get what you fight for.   "Be of good cheer."


Who is Jesus, for you ?
Regularly, books come out about Jesus written by people who have sniffed out the commercial vein. These improbable clues will invariably lead the reader to a status quo as to the existence of Jesus. In reality, there is only one way to meet Jesus and that is by soaking up his supernatural words. My words are Spirit and Life, says Jesus. Unless we know Jesus as the loving claimant of our spiritual being, we do not know him. King Solomon, despite his ungodly inclination for foreign women who eventually turned his heart to the worship of their gods, which cost him his kingdom (1 Kings 11), had a revelation of Jesus' love, centuries before Jesus appears on the scene. He wrote the Song of Songs, a beautiful poem that celebrates Jesus' love for us as individuals called to be his bride, in the sense that we can live with him a commitment of mutual love that will last for eternity. Here is an excerpt :
The young woman: "Let him kiss me with the kisses of his mouth— for your love is more delightful than wine. Pleasing is the fragrance of your perfumes; your name is like perfume poured out. No wonder the young women love you ! Take me away with you—let us hurry ! Let the king bring me into his chambers." Her friends: "We rejoice and delight in you; we will praise your love more than wine." She: "How right they are to adore you !"    Song of Songs 1




God's Song Over Us – Mysteries of the Song of Songs

Do you find it hard to feel satisfied? In this episode, the Messianic Rabbi teaches us how God's ultimate love letter to us, the Song of Songs, reveals God as the source of all satisfaction. God is not a historical figure, he is not a political party, he is not a religion, and he is not yourself. If this is how you know him, you are heading a total loss. God is a person – your creator and your lover, and you must know him personally if you want to live with him forever.




Taking The Rainbow Back

I've said it earlier : God loves the people who are in same sex attraction. But he also loves the people who are addicted to porn. He loves those who are in jail for hating and murdering another human being. God does not love us because of our deeds, our views, our political correctness, but he loves us because he is our father. Even if they reject it, a father will always hope that his children will eventually walk in their true identity, that which he has given them. And being a perfect father, God doesn't want us to be hurt forever by being involved in an altered understanding or in a lifestyle that is harming us. We don't know where this LGBT trend originated and where it is leading us, but God knows it very well and he warns us that if we adhere to it, it will destroy us.




Faith vs. Culture – Rise of the Occult

Astrology, Ouija Boards, Tarot Cards... are these mystical practices harmless or deadly? We must know the practices which, because they have been admitted by ourselves or by our ancestors, gave access to our lives to spirits from an occult, that is to say a hidden world. Diabolic counterfeits of the gifts of the Holy Spirit for some, these practices such as the recourse to psychics and use of clairvoyance will allow curses to operate through us and change the course of our lives in such a way as to harm us by also affecting those around us. What can we do to get rid of it and close the breach?



IT ENDS WITH ME ! – Lessons from the Book of Esther : Breaking Bloodline Curses

The consequences of sin do not get canceled with time but are only removed by the blood of Jesus Christ. Whatever is not transformed in your life will be transferred to future generations. Today, generational curses can end with you and be replaced with the blessings of God! Jesus has made us eligible for generational blessing and it is available through repentance and the authority given to us.



From Astrology, Tarot, and Occult to Jesus

New Age is like a cascade of beliefs and practices which lead you always further from God into the realm of Satan. In this powerful interview with Angela Ucci, we discuss her testimony as well as her experience with the occult, astrology, new age, and yoga. Make sure you share this with others!
---
The Thought of the Month, May 2023
"In May, do whatever pleases you ?"
Should we be reasonable? I have long thought that God is not interested in the natural gifts we are born with, even if we are born in May. Too directive parents and setbacks that occurred in my youth, had made me doubt. Some zealous preachers then nailed the lid on that certainty. It is true that certain biblical passages suggest that we have to crucify our "flesh" to henceforth obey the Spirit. It is still necessary to understand what the flesh and the Spirit are. At the beginning of my Christian life and for quite a long time, I repressed the impulses of my imagination which I thought were detrimental distractions, to live only by reasonable and assumed choices… (Click to read more)
"Therefore I tell you, whatever you ask in faith in prayer, believe that you have received it – imagine it happening – and you will see it come to pass – you will receive it".   Mark 11:24.



Neville Johnson – The time of Change is Now

In this wonderful message, Neville Johnson shares with us, like in a fireside chat, an aspect of his life by talking about his simple but profound experiences, and how God opens our horizon by transforming our mind. But he also warns us against the very current temptation to want to separate experiences from the One who gives them to us.



Felix Halpern – Dancing Past the Darkness

What happens when a Christian Jew dies from a medical mistake and comes back to life without a watch, without a schedule, but with new eyes and a new heart for people? Hear some of the great stories that this man who now chooses to be led by the Spirit experienced.



Dr. Caroline Leaf - Why we need to fall in love with our emotions

Why falling in love with your emotions is one of the best things you can do to improve your mental health! We cannot run from or suppress our emotions. We need to get comfortable with feeling - even the emotions that don't make us feel so great in the moment. We need to be okay with saying things like "I feel sad" or "I feel anxious".



Надежда, вера и любовь. | Studio Liel Arts Israel (Псалом 44) Музыкальный

Когда замолкнут огонь и слова воинов, Как и весь истерзанный войной мир, украинцы и русские, израильтяне и иранцы соберутся вместе как братья под руководством воскресшего Христа. Иногда мы уже думаем, что Бог оставил нас. Но он здесь. Он рядом. Он хочет поддержать нас. Никогда не сомневайтесь в нем.
• Послание Любви (Message of love) by Studio Liel Arts Israel

---
The Thought of the Month, April 2023
Give Them The Big Picture !
That morning, the late Neville Johnson had prayed to know what he should share with a congregation of American believers who welcomed him. God had answered him: Give them the big picture !
For this Australian pastor accustomed to the relative serenity of his timeless patch of paradise nestled in the heart of the Queensland jungle, this prospect was a bit daunting! He nevertheless knew how to sum up this prophetic fresco in less than two hours. His message, which I listened to a long time ago, remains to this day the most complete and the most balanced of those that I have been able to hear on the theme of this biblical eschatology, or put more simply, on the future of the earth. I have no doubt that it will be appreciated by all who seek peace and who know the path to true upliftment. Neville Johnson hides nothing from us of the cataclysmic upheavals that will reshape the earth. But he recounts with such enjoyment the mystical experiences and the biblical visions which have been granted to him, that all fear aroused by these events disappears in favor of the beauty and the truth of this grandiose and unimaginable prospect, entirely confirmed by the writings. of the Bible.



Neville Johnson – Give Them The Big Picture

Fear arises from a truncated and biased explanation of future events. Through his teaching, Jesus constantly reminds us that God is in control and ultimately cares for us. Do you believe that God still gives those who seek him supernatural visions and experiences? For that is what Joel had prophesied for this time of fulfillment in history. This generation needs to know their future and why they are here. You are THE generation lucky enough to stand with Jesus to save the earth from the devil! "This Good News will be preached in witness to all nations, and then will come the end" - And a new beginning !



Minute by Minute – With JOANNE MOODY

Despite decades of debilitating chronic pain and unanswered prayers, Joanne says that Jesus told her to contend for her own healing. She eventually was healed, and she now has a powerful testimony on how God works in the life of people.



Choose Joy in all Circumstance – With JOANNE MOODY

Religiosity makes you struggle all your life to be accepted and loved. But when you know that you are loved by God and accepted by Him in a relationship, regardless of the state of your heart, then you will have unwavering joy.



The Rapture, Let's Talk About It: Jimmy Evans Talks End Times and Your Important Role Now

Every now and then this concern is coming back to the fore, especially when the forces of evil rage against Christians. Will Christ prevail in this world? Yes, absolutely and we have to add to the Kingdom of Jesus now. But… Before that final victory, evil will prevail. And there will be a judgement on the world and you don't want to be part of that. So what is our "blessed hope" ?



I visited Heaven and learned many things, including the true meaning of 666

Glenda Jackson shares personal stories of miraculous events, including her family heritage, to show how God is still performing signs and wonders today and encouraging listeners to be recipients of God's glory in anticipation of the return of the Messiah.



Is Hell Real ?

A lot of people think everything will be fine when they die, but that's not the case. If you are not "on your way" to Heaven, and you are certain of it, you should make it your first and highest priority now.
---
The Thought of the Month, March 2023

Follow me ! I don't know where I'm going but I don't want to go alone…
"Be careful that no one holds you captive through a hollow and deceptive philosophy, which depends on human tradition and the elemental spiritual forces of this world rather than on Christ". Colossians 2:8
Any form of religion, or behavior oriented towards God but guided by thought, constitutes a refusal of the work of Christ or denotes a misunderstanding of what he is in relation to us. True Christianity is an experiential knowledge of God, on a personal basis. It is knowing God and doing his will. Religion is our actions in order to obtain something, something that God wants to give us for free, with a new identity. This roundabout way of practicing God instead of enjoying him, is what he calls: sin.
Jesus didn't come to bring us a new religion. He came to bring an intimacy with the Father. Religion is a placebo.





Are we in the end times ? – Part 1 – Bruce Allen & Michael Van Vlymen

In this discussion, Bruce D. Allen and Michael Van Vlymen lay out some arguments for or against the End Times theory, a topic that came to the table as a result of questions from listeners. Will the world get better and better thanks to technology and medical science? Will our politicians, or the Pope, save us? Many think so, including some Christians. Or are we on the verge of a general collapse of everything man has designed to be self-sufficient without God?   Part 2 | Part 3



The Correction of God's People To Experience God's Glory – Dr. Bruce Allen

IIf you don't learn to hear God's voice in your own life in the immediate future, you will be misled and lose your life.
"The one who enters by the gate is the shepherd of the sheep. The gatekeeper opens the gate for him, and the sheep listen to his voice. He calls his own sheep by name and leads them out. When he has brought out all his own, he goes on ahead of them, and his sheep follow him because they know his voice. But they will never follow a stranger; in fact, they will run away from him because they do not recognize a stranger's voice." John 10.
What is Coming on the World, but above all, the Renewal of all things that comes Afterwards with the Revelation of the Sons of God!


Revealing Revelation Conference 2023, Davao

Amir Tsarfati and Barry Stagner teach about the book of Revelation in a direct and easy to understand way. The Revelation of Jesus is a very topical message for our time of uncertainty.
Proximity Bible Prophecy Conference 2023

God does not speak to us in such detail about end events for no reason. What is happening to the world is going to be catastrophic for most. But for those who love the Lord, there is a way out. Let's be ready. Speakers at this conference include Jan Markell, Amir Tsarfati, Barry Stagner and Mike Golay.


Psychological disorders are the leading cause of hospitalization among people aged 20 to 35.

Have you felt bad after being around people who claim to love Jesus? This is unfortunate, and it wasn't your fault. Like thousands of people who have met the real Jesus, give yourself another chance.
We weren't made to face life alone. An anthology of testimonies of lives transformed by an encounter.



INRI Motivation

Is your God distant and uninvolved in your practical life? Jesus of Nazareth is King. INRI Motivation introduces us to this other God: the one who wants to be our companion in the reality of our daily life. Do you desire a new sense of God's direction, a better position, a companion for life? God has a supernatural provision available to you, but you must ask for His wisdom.



700 CLUB INTERACTIVE

The 700 Club Interactive is a place dedicated to prayer, uplifting stories, positive Christian news, encouragement and community. Connecting the dots between faith and culture and addressing the hard questions like: what's my purpose? How am I living out God's love? What's my role as a Christian in today's culture? In the face of war and chaos and uncertainty, how do we keep our hope? How do we live out our faith?
Encouraging and equipping women around the world for a life of faith. It is our heart to be a friend that walks alongside you in the joys and difficulties of life, offering Biblically-based content to inspire and deepen your faith and love for Jesus Christ.
Just Between Us

Circumstances can be hard. A broken dream. A divorce. Mental illness. A wayward child. Financial difficulties. The list goes on. At times like these you need some encouragement from sisters who have been there. You need a friend to come alongside you in your messy places, pointing you to hope in Christ. It's our prayer that you will find that comfort and more in this collection of articles for times like these!

Healing Miracles
How to Wear the Devil Out & Get Your Miracle!

Did you know that miracles and healing miracles are a daily part of our Christian walk? Maybe you knew. But then, why are we seeing so few? Becky Dvorak tells us what we have to do, to get a miracle every time.
---
The Thought of the Month, February 2023
" Every tree yields fruit after its kind, bearing seeds in itself "
Understanding Authority.
This month it seemed to me that the breeze of the Spirit was leading us to revisit one of the fundamental teachings of Christianity, namely the nature and legitimacy of spiritual authority. This knowledge on which a large part of the Christian life is based, however, remains unknown, and few are those who know how to apply it to their daily life or to their ministry. It is knowledge that was once rejected by those it would have saved. … (Your browser can read the content of this page vocally. You must first deploy the text by clicking on the "Read more" button)





Satan's Mightiest Warfare Weapon | Peggy Joice Ruth

When you sit quiet for a while, of what kind are the thoughts that flood your mind? How often do we let a devaluing thought come in and set between what God is trying to tell us and our faith in Him? We often forget where the strength of the enemy lies.



How to Have Peace In Uncertainty | pastor Willie George

What is the perspective of God on what wants to harm us? This is a very reassuring message on God's character and his faithfulness to his promises.



In this classic teaching by Charles Capps, you'll learn the Bible cure for fear, doubt and unbelief.

Charles Capps- a retired farmer, land developer, and Bible teacher who has travelled extensively throughout the United States and several foreign countries sharing the truths of God's Word. He taught Bible seminars for over 35 years, emphasizing the authority of the believer, faith and the power of words. For more information visit www.cappsministries.com



Jesus was teaching as one who had authority | Curry Blake

"When Jesus had finished saying these things, the crowds were amazed at his teaching, because he taught as one who had authority, and not as their teachers of the law". Matthew 7: 28.



The Rapture—Is It Real? - John 14:1-6 - Skip Heitzig

The word rapture is not found in most English translations of Scripture, but the concept of it most certainly is. Latin translations of the New Testament have the word plainly rendered as rapturo, which simply means a catching away or a snatching away. The Bible presents two stages of Jesus' second coming: first, He will come suddenly in the air to snatch away believers; then He will return to earth at the end of a seven-year period called the tribulation.



The Coming of Christ – Revelation 19 | Chuck Smith

A solid teaching on some difficult to understand chapters of the Bible.





John Bevere Quotes

"Jesus could call the Pharisees hypocrites and snakes because he went to the cross and died for them. So the next time you are quote "discerning" about somebody, ask yourself the question : could I die for them?"



The Fear of God is Coming! | John Bevere

What does it mean to fear God? How can it lead us into a closer relationship with God and free us from all other fears and anxieties? John Bevere delves into the often-misunderstood concept of fearing God and how it can lead to a deeper understanding of His love and grace.



4 HABITS THAT KEEP GODLY MEN WEAK

Do we have a life outside of God? A worthy reminder that we have an enemy in this world.
The Renewing of the Mind.
Developing a spirit of discernment is not anti-Christian. In these times when seducing spirits are at work in the world and throughout the church, having this discernment could save your Life.
In his epistle to the Ephesians, in chapter 4, Paul says that there is one Lord, one faith, one baptism, one God and Father of all who reigns over all, who acts through all and who is in all . But we have each received a part of that light, and that is why God has appointed men with a special gift to build up others in a particular aspect, so that together we may come to unity in faith and in knowledge of the Son of God, in the state of adults, in a stage of maturity where the fullness that comes to us from Christ is manifested. In this way, we will no longer be little children tossed about like boats by the waves and carried hither and thither by the wind of all kinds of teachings, at the mercy of men skilful in leading others into error.
One of the lessons that Jesus teaches us in his parable of the tares sown among the good wheat is that it is sometimes very difficult to distinguish the true from the false, the genuine from the counterfeit. Faced with some skewed attitudes or teachings, that are very real, it is tempting to want to discredit the miraculous and the declarations of faith, when it is not Christianity as a whole. And that is what our common enemy wants. Jesus tells us that by judging too hastily and by rejecting such and such a person because of an imperfection, we risk uprooting and drying up plants that he himself sowed. Jesus was well aware of all the imperfections still present in his disciples, but above all he saw their hearts. If the heart is good, the mind will eventually align with the truth. If the heart is twisted, this person will have to be given time to confront their problem. Beware of hypocrites, said Jesus. They come to you in sheep's clothing, but inside they are ravenous wolves. You will recognize them by their fruits. Do we pick grapes from thorns, or figs from thistles? What kind of fruit do they produce – and do we produce?



How the Babylonian Religion Has Continued to Our Day | Revelation 17

Many Catholics are great people, and many Mormons are sincere and committed. But are their religions consistent with the Bible? What are the facts? In this teaching, Pastor Chuck Smith looks back on the turning point that Pope Innocent III caused the church to take and on the prophecy of Revelation 17.





Another Gospel? by Alisa Childers - Book Trailer

A movement seeks to redefine Christianity. Some think that it is a much-needed progressive reformation. Others believe that it is an attack on historic Christianity. In her book "Another Gospel?", Alisa Childers describes the intellectual journey she took over several years as she wrestled with a series of questions that struck at the core of the Christian faith. Also:  How to Spot the Danger Signs of Progressive Christianity in Your Church



• Answering Progressive Christian Memes: Is it a Sin to Cuss, Be Gay, Have an Abortion?





False Spirits vs. The Holy Spirit In The Church – WATCH

Our quest for the supernatural can lead us astray. Many Christians struggle in their life with God, because they need to be set free from demonic revival spirits they got at church, in order to be filled with the genuine Holy Spirit.



Bethel and Bill Johnson's Bridge to the New Age and Spiritual Fakery.

Bethel Church in Redding California has presented itself to the worldwide body of Christ as a guide for deeper and more miraculous spiritual experiences. That is the bait. But what about the truth?
Also : Bethel's teaching Examined Biblically.





Bethel Redding & Modern Apostles: A Biblical Analysis

Holly Pivec and Dr. Doug Geivett talk about their new book outlining the teachings of Bethel Redding, the existence of the New Apostolic Reformation movement, and the influence the movement has on the broader church through its wildly popular worship music. This movement can be very appealing to a number of Christians from "sleepy" backgrounds, because it is alive, has exciting worship music, and it claims the values of the Gospel. But the deviant theology and practices taught at Bethel make it very harmful.
---
The Thought of the Month, January 2023
"And they saw only Jesus, alone with them".
During a sharing, a friend recently met told me that she had been in contact with a group of evangelical Christians. She had gone twice to their meetings, hoping to find an echo to her personal beliefs. But she got bored. And thinking on the reasons for her weariness, it seems that their lack of openness to other paths had marginalized her. She said to me : "What pained me with some Christians is that there is only room among them for one name. Why shouldn't God – if indeed he should be called God or Jesus – be just as much in others? What she expressed is a suffering that is quite universal, as is also the concern to find what unites us rather than always stopping at what divides us. Because if God did not make us all in the same mould, aren't our differences supposed to contain some riches to share?
The power of words.
The nature of her question immediately took me back to two years earlier, when with another friend, we were talking about God's favour for Israel. … (Your browser can read the content of this page vocally. You must first deploy the text by clicking on the "Read more" button)
Beginning to See the Light | Stormie Omartian | Part 1/4

During a very difficult time in her life when everything was changing and it didn't seem to be for the better, Stormie Omartian prayed to God to show her how to live the life it seemed He was calling her to live. The more she prayed and drew closer to God, the more He began to show her an amazing revelation that changed her life forever.
Slavery and Racism in the Bible.

It's a question that regularly comes to the fore: Does God support racism and slavery? A comprehensive series of teachings on these topics, given by Pastor Allen Nolan.
How Torben Sondergaard got framed by a Danish National TV Program.

Torben Sondergaard, a Danish pastor, has been detained for six months in Florida without formal charge after a Danish TV producer produced and aired a montage of fake evidence.

The Riches of the Word
Bible study on Genesis – Skip Heitzig

A formidable teaching series by a very knoledgeable man. The theory is accompanied with numerous anecdotes.
Also available from Skip's website as Mp3
Other Topic :   Acts 1 - Skip Heitzig
Genesis 24 – Jon Courson

Not only is Jon Courson a great Bible teacher, but he is also a genuine man. He teaches here on the character and the role of the Helper, the Comforter who is the Holy Spirit. His teaching is supported by many striking illustrations from the Bible, such as the story of Isaac and Rebekah.
Acts – Jon Courson

The most jubilant story of the Bible is the Acts of the Holy Spirit in the life of the Apostles. That of the Apsotles only? "After they prayed, the place where they were meeting was shaken. And they were all filled with the Holy Spirit and spoke the word of God boldly. Those who accepted the message were baptized, and about three thousand were added to their number that day". At the temptation of wanting to do things our own small ways, should we not learn to let Him take the lead?



Hebrews Chapter 1 Part 1 study | François Du Toit

The book to the Hebrews is for many such a masterpiece of writing that the mystery about its writer is even greater. Speaking justly on this book takes an illuminated spirit. Theology does not need to evolve, but it needs to go back to the beginning.



The Moment of Awakening | François Du Toit

According to François Du Toit, the Bible is God's love letter to mankind. And we have no problem believing him when we hear him speaking with such emphasis on the trasures hidden in the book's pages.
With his wife Lydia, François also works on the Mirror Study Bible.
---
Another year is almost over.
Someone said in 2019: "From now on, the world will probably never be the same again". The first crisis is almost over, but other more serious crisis seem to follow. Like our lives sometimes, history is not linear but it is a roller coaster, made of ups and downs, of light and shadows. Approaching a vertiginous descent is only exciting when you know that the momentum will take you up to heights perhaps never reached before. What is your recipe in these troubled times, to preserve your heart and your dreams? Everyone has their own secret. For me, it may be walking in the forest in all weathers. Exercise is necessary as you get older. Constantly moving forward, escaping from conformism, and preserving one's heart by considering things with lucidity but in a poetic realism. Regularly soaking up the resilience that the contemplation of nature gives us, forgiving others and forgiving ourselves. But it is also to glean the providential daily manna and to feed on it. I am reminded at this moment of a long-forgotten song by the late Georges Moustaki, whose albums rocked my young years: Les Eaux de Mars : "A step, a stone, an unfolding path, what is left of a root…". Original lyrics by Antônio Carlos Jobim. We do not make the road, but the path taken makes us who we are. Life is worth only by those seemingly insignificant things, but which when aligning themselves illuminate our path with the light of friendship.
Merry Christmas and Happy New Year everyone !

The Thought of the Month, December 2022
"A woman giving birth to a child has pain because her time has come; but when her baby is born she forgets the anguish because of her joy that a human being is born into the world."  John 16:21
"Then a very large group of angels from heaven joined the first angel, praising God and saying : "Give glory to God in heaven, and on earth let there be peace among the people who please God." Luke 2:13-14.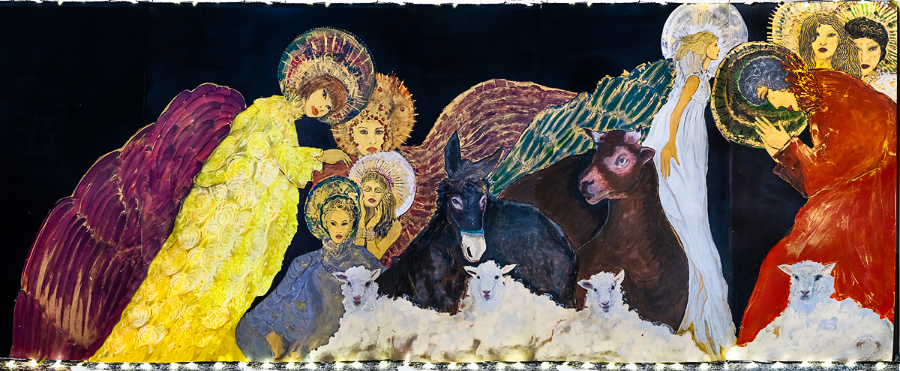 Large format "Women-angels" by Laurence Dubacher.
What will the world look like, twenty to thirty years from now ? What is the prophetic roadmap, and how does Christmas fit into the storyline ?



I am neither a prophet nor a son of a prophet; but I am a shepherd and I pick the fruits of the sycamore fig trees.  (Amos 7:14).
Have you allowed yourself to imagine what your dream life would be like? I'm not talking about a career plan or the dreams that are put in our heads when we grow up in front of television. But just the life you dreamed of as a kid? When young people are asked the question, some already know what they are going to do to buy a house and a nice car and ensure a comfortable retirement later. But many just shrug their shoulders with an embarrassed smile : "Me? Well… I don't know yet."   What's the use of dreaming since everyone knows that we don't do what we want in life and that we have to work. Me for example : I wanted to spend my time in nature traveling and photographing animals. Not only animals, people also interested me, but especially beautiful landscapes : jungles, deserts, mountains, sea shores and coral reefs. But too many gunshots have made the animals shy, and when you're shy yourself, it's not easier to approach people. The landscapes remain. They are invigorating and rarely disappoint. But having to go through them alone eventually gets boring. So I asked myself other questions : Why do I feel this urge to photograph, if I can't make it my job?   (The content of this page can be voiced by your web browser. First, the text must be expanded by clicking the "Read more" button)
New Years! - Tammy, Jon and Ben Courson

I got hold of this New Year message from the Courson Family. We are reminded that seeing and chewing on the good things is so important in the times of uncertainties.
For Unto Us a Child is Born

Often, Christians wonder if it's appropriate to celebrate Christmas. What is the real story of Christmas anyway? Can God have a son? Jesus may not have been born on the 25th of December, but praise God: He was born ! Join Amir Tsarfati as he navigates through the Scriptures to reveal the redemptive plan of God in the story of Christmas.
The Silent Years: The Childhood of Jesus | Allen Nolan

Did you know that Jesus had a difficult childhood? Psalm 69 contains several messianic prophecies that give us a glimpse of what "the silent years" were like. Jesus went through just about everything a child that is different, born under mysterious circumstances, can go through from his peers. Mockery, rejection, ostracism, Jesus carried all our sufferings to the cross. The prophecies announced the whole plan of salvation and so it is with the meaning of the names in the genealogy of Jesus.
What Jesus Thought Before Being Born

Jesus existed before his birth. What was he thinking for Mary to have to conceive him supernaturally ? Why did he temporarily empty himself of his divine nature and what was the purpose of his obedience and birth into a human identity ?
1,000 YEARS on Earth: What Heaven Will Be Like

This 1000 year period on earth will see things revert back to the way it was before the Fall. What will it be like? What are the biblical facts? Should we be worried that the world population has reached 8 billion? What does the Bible say about Heaven?
STRANGE Facts About The Resurrection of Jesus Christ !

Pastor Allen Nolan tells us about strange facts we have never been taught. Most of all, he invites us to understand how the resurrection of Jesus links to our own resurrection and to the soon to happen rapture. A fascinating message.

So many believers are having strange dreams these days that it can't just be a coincidence. God prepares his own. I myself had an incredible dream almost 16 years ago. It was actually a very exciting dream, although there was reason to be terrified with what was happening here. Above all, I was amazed to see how I was taken in the air to a haven of peace where we were welcomed, gathered, and where everything had been carefully prepared in order to offer us an accelerated training. No need to worry, but it's time to rise up and get closer to our Lord.

• Here is another one.
• Dream/vision from years ago of Jesus return around Christmas.
Dream From God That Scared Me | Is This The Rapture?

I actually thought that it was a demonic dream at first, because it scared me awake. It wasn't until the NEXT morning, when Jilliana and I were worshiping and having some devotional time, that GOD OPENED my eyes to SEE the revelation being illustrated in the dream.
Jonathan Cahn Prophetic Message: The Harbinger Of The Children.

Jonathan Cahn delivers a prophetic word on what's happening to our children - from Disney to Balenciaga, from Baal to Moloch, child sacrifice, pedophilia, the return of the gods of paganism, and what that means from a spiritual standpoint.
Make way for women !
In Christ, there is no longer any distinction between men and women, admitted the apostle Paul after having forbidden the women of Corinth to teach in the church, no doubt for good reasons because if we are to believe the context, the Corinthians were in serious need of re-framing. But if we go beyond the cliché of the fictitious Amazons of the Greeks or that of the vituperating Yiddish or Latin mammas, women are excellent teachers. Aren't they the ones who train men from an early age? In the church, men are interested in their teaching and sometimes they care less about the people. While the women who know how to hold their office have a maternal fibre which makes them tender and compassionate, like Jesus was. Of course, our sisters did not wait for us to give them the floor to make themselves heard, but some a priori die hard in the church. I would like to pay tribute this month to a few meaningful enterprises that show the value of their work. … To be followed.
You are without rival – Lisa Bevere

You were not made for a dreamland, you were made for a terrifying world. We can't be heroes without a battle. The author of "Lioness Arising" invites us to speak truth with boldness in our day to day life.
Alisa Childers - My Story

As a former CCM recording artist and life-long follower of Jesus, I experienced a period of profound doubt in my early thirties. This is my journey out of unreasoned doubt into vibrant, intellectually informed faith.
Alisa was also part of the music group : ZOEgirl



Dr. Caroline Leaf - Why we need to fall in love with our emotions

Why falling in love with your emotions is one of the best things you can do to improve your mental health! We cannot run from or suppress our emotions. We need to get comfortable with feeling - even the emotions that don't make us feel so great in the moment. We need to be okay with saying things like "I feel sad" or "I feel anxious".
Akiane Kramarik – Art is a prophetic Gift.

"Blessed are the pure in heart for they shall see God". Many people know to use their art to put themselves forward. But those who can speak of the source, the gestation and birth, sometimes in pain, and the meaning of this expression, are much rarer. I knew nothing about Akiane Kramarik until I discovered recently her prophetic passion for the One who makes our world so beautiful. The way she truly lives what she expresses as "an awareness of our moral duties and responsibilities, and the harmony between spiritual purpose and freedom to live our dreams", is an example for all who express in a form of creativity.  Actual.



Stormie Omartian

Traumas in our youth can imprison us in patterns of fear. Stormie Omartian had to learn to overcome those feelings and God has taught her invaluable lessons. She shares that light through her books and video teachings.
What Every Parent of an Adult Child Needs to Know
Stormie Omartian | Part 1 of 4

So you were hoping that by the time your child is eighteen and hopefully graduating from school, your task would be over? What no one told you is that your days of serious parenting are just beginning ! First of all, you need to know that it never ends.
Encouraging and equipping women around the world for a life of faith. It is our heart to be a friend that walks alongside you in the joys and difficulties of life, offering Biblically-based content to inspire and deepen your faith and love for Jesus Christ.
Just Between Us

Circumstances can be hard. A broken dream. A divorce. Mental illness. A wayward child. Financial difficulties. The list goes on. At times like these you need some encouragement from sisters who have been there. You need a friend to come alongside you in your messy places, pointing you to hope in Christ. It's our prayer that you will find that comfort and more in this collection of articles for times like these!
The Watchman
Where are the sentries? The watchman is not always he who claims to be. Men have learned that the best way to resolve family disputes is to leave it to their wife – after all, she's the one who brought up the issue. They know that if they don't feed the fire it will eventually go out, and now they're having a good time riding the wave of passivity. Meanwhile, their wife is struggling with the worries of the children at school, her work at home and another job outside, this co-worker who is giving her misery, and her husband who seems unwilling worry about it. How do I know ? …



Mike Golay | The Watchman

Every believer has been given a guardian role, but not all believers take it. From understanding the times we live in to taking a biblical approach to controversial situations, the watchman has a demanding role. What does it mean to be a watchman according to the Bible? What practical steps can we take? Join Pastor Mike Golay as he provides encouragement with his usual humor, for this crucial responsibility.

The Bonds
"I hope you will put up with me in a little foolishness. Yes, please put up with me ! I am jealous for you with a godly jealousy. I promised you to one husband, to Christ, so that I might present you as a pure virgin to him. But I am afraid that just as Eve was deceived by the serpent's cunning, your minds may somehow be led astray from your sincere and pure devotion to Christ". 2 Corinthians 11:1-3.



Divorce In the Church: Who Gets the House? Episode 1
Allen Nolan

Why are divorce, but also sometimes marriage, traumatic experiences? What are the biblical grounds for breaking vows? In this 2017 series on marriage, Allen Nolan discusses divorce and what the Bible teaches.
Unequally Yoked : Who Gets The House? Episode 2
The Thought of the Month, November 2022
Where does this loneliness of the human beings come from ?

Of all the animals, man is perhaps the only one who can feel very alone in the midst of a crowd of his fellows. The idea that we are alone in life and in the universe does not come out of the blue. This loneliness comes to us from the origins of the world, since God says at some point in the Book of Genesis: "It is not good for the man to be alone, I will make a helper suitable for him". This remark may come as a surprise because when we read the preceding text, we realize that man lived in Eden where he enjoyed the company of animals and that of God. By reading the above, one can even consider that the man is already in a relationship since the word Adam points also to the human race, male and female. Why were these lines added and why does God consider that even in these circumstances, the man (implied: and the woman) are really alone and that this is not good? I have long thought that the narrator had made an ellipsis and a return to develop an aspect of what precedes. But in Hebrew, the word "Towb" translated by good, actually means perfect, excellent, in the sense of a finality and an outcome. God would therefore be telling us in essence, that, at this stage of the creation, things are not yet completed. I believe that we must simply see in this observation, the prelude to a new step towards the culmination of creation, a step in which man himself will have the opportunity to participate. (Click to read more…)
The Unseen Realm - Documentary Film on the Background of the Bible.

Rebellion in the council of God. Spirits of dead giants. Rival gods creating chaos. These are just myths and fairy tales, right? Yet the Bible tells us a completely different story.
George El Khoury | تغيرت حياتي

القصة المذهلة والمؤثرة لملياردير يتخلى فجأة عن حياته المضطربة ليكرس نفسه لمشاركة الأخبار السارة للغاية.
Allen Nolan | 7 People Who Committed Suicide in the Bible 1.

Situational depression, physiological depression, learn to understand what causes suicidal thoughts and how to face seemingly hopeless situations, so as not to be taken away by these destructive feelings.
Next: The Bible and Suicide 2
Allen Nolan | What Does the Bible Say About Abortion? Book of Amos 12

Does God care about unborn children? Does the fetus have no constitutional rights in his eyes? It seems they have rights in the Bible, if we refer to the terrible judgment that fell on a certain nation where babies were killed in the womb. God cares about unborn babies, and He cares even more about mothers, even when they've made a bad decision.



Curse on the Woman | Book of Genesis Explained Bible Study 13 | Allen Nolan

Let's face it, we have to bear some of the consequences of the sins of our ancestors. But should suffering be seen as a punishment from God, or simply as a consequence of our falling from grace? How we understand this determines our attitude to pain, and indeed our whole approach to God. Also: The Curse on Adam
The Azusa Street Revival, a Textbook case.
The story of the Pentecost event in Jerusalem, after the resurrection of Christ, was the trigger for similar events in the centuries that followed. Most of these resurgences of popular faith have been violently repressed by civil or religious powers. With a few exceptions, however, such as the revival of Los Angeles, which took place at the beginning of the last century thanks to the First Amendment of the United States Constitution, which granted all its citizens freedom of expression, freedom of religion, and freedom of the press, as well as the right to assemble and petition. The Azusa Street revival was the catalyst for profound changes in American society. Many people converted, especially Catholics. Catholics are at the opposite of Pentecostalism, but they believe in miracles despite the fact that the human traditions of their church have smothered the working of the Holy Spirit within their religious structure. Yet the Azusa Street revival was the scene of countless miracles and healings, some of which were spectacular, for example, a missing arm that grew back fully functional in less than a minute under the eyes of the assistance, or a group of thirty deaf people who all began to hear at the same time, and countless blind people who regained their sight. In these meetings, healing had become predictable and even almost certain, so that crowds poured in from all over America and beyond. What characterized the beginning of this revival was the diligent prayer of one man, William J. Seymour, son of freed slaves, then 34 years old. The man spent up to seven hours a day in prayer, and he continued to pray during the meetings. He had been joined by other prayerful Christians, who had come together in a small community. Prayer in spiritual tongues was the indispensable element which activated the supernatural. And as on the day of Pentecost, flames of fire visible from the outside sometimes passed between the sky and the modest building where these meetings were held. This awakening was carried by an unusual fervour, before spreading to smaller communities. The American Pentecostal movement however, like all religious movements, has been the scene of many excesses and even counterfeits of the Holy Spirit, as I mentioned in the September column. Preserving a faithful faith in the teaching of Christ is as important as finding faith. The emphasis must be on the person of Jesus and on his teaching, so as not to drift away and be finally taken over by the enemy through some subterfuge.
The Azusa Street Revival, 1906

Just over a hundred years ago, a movement unparalleled since shook the very foundations of the American church. According to the unanimous testimony of observers, this movement was not controlled by men, but the Holy Spirit had complete freedom in it.
Miracles – How to always receive what you ask from God

God is not silent on how we can trigger good or evil things in our life and in that of those around us. The seeds we sow are also the kind we will reap.
The Thought of the Month, October 2022
Why has any life on Earth been subjected to lapsing ?
This month of October, month of the harvest festivals in some parts of the world, I would like to address the big question of aging, of illness and death. These sufferings which we are regularly confronted with are an integral part of existence. And despite what some hope for and on which they work hard, no scientific breakthrough will allow us to cancel them definitively. However, placed in the context of God's gift of life, one wonders why these things exist. Why would God have given us life if it is to then allow us to suffer the most diverse ills, witness the slow decline of our parents, our spouse and sometimes even our children, before our own disappearance? What kind of god does one have to be to want to subject his creation to such trials, when everything seemed to have started so well? Is there only a God who watches over our existence and cares about our happiness? Or would suffering be, as some minds lacking insight claim, a teaching tool that helps us grow and become better people? To find the beginning of an answer to these questions, we will have to take a detour to a book that describes the origins of life, and sometimes less known, those of suffering and death. You will see that this story gives us not only the key to the enigma of aging and decline, but also the recipe for a return to normalcy, in other words, to eternal life. (Click to read more…)
"Whoever believes in the Son of God accepts this testimony. Whoever does not believe God has made him out to be a liar, because they have not believed the testimony God has given about his Son. And this is the testimony : God has given us eternal life, and this life is in his Son. Whoever has the Son has life; whoever does not have the Son of God does not have life.  1 John 5:10-12


What will your life be like when Jesus restores his rule on earth? God gives us a glimpse of it in Isaiah 65.

Understanding Genesis is fundamental to understanding what the gospel of Jesus is all about.
Book of Genesis Explained | Allen Nolan

In this introduction to the Book of Genesis Bible Study, you'll learn all about the first book of the Torah as found in the Old Testament of the Bible. From creation, Adam and Eve, Noah's Ark to Joseph and his coat of many colors, we hope you find this in-depth look at Genesis from Pastor Allen Nolan helpful!
Like Those Who Dream | Amir Tsarfati

"When the Lord brought back the captivity of Zion, we were like those who dream." (Psalm 126:1) God uses dreams, sometimes to speak, to warn, or even to encourage. But there are also times when being like someone who dreams means you simply can't believe the incredible events that you are witnessing.
Amir Tsarfati: The Tree of Life

There is a lot of speculation surrounding the Tree of Life - a unique tree first presented in the Garden of Eden and fully accessible to Adam and Eve. However, after they participated in the sin of the world, they were immediately forbidden access to this tree. What did this mean for Adam and Eve?



Good or God? | John Bevere

The distinction seems pretty straightforward. But is that all there is to it? If good is so obvious, why does the Bible say that we need discernment to recognize it? Good or God? will help safeguard you from deception that can lead to apostasy. Getting the discernment will empower you to engage with God on a level that impacts every aspect of your life.



Live Unoffendable | John Bevere

Indignation against evil does not justify anger. The author of the bestseller "The bait of Satan" invites us to check if in our lives there remains a root of bitterness that would poison our existence and our relationships through offense. Going further, he invites us to learn to live without being offended. A most important message, according to Matthew 6:12.



WHY Bitterness is Dangerous! | Secret to Forgiveness Episode 1

In this super helpful series, Allen Nolan talks about what the Bible has to say about forgiveness, and why it is so important to the Christian faith. Do you struggle like me sometimes with forgiveness when someone has wronged you? Then this series is for US!



POWERFUL PRAYERS | Plead The Blood Of Jesus For the Protection of your House

The fight is not ours, but it's the Lord's. "No weapons forged against you will prosper", says God. "Because he holds fast to me in love, I will deliver him, I will protect him, because he knows my name". It is time to get hold of the true meaning of Passover.
The Great Reset and the Coming New World Order
– Charlie Kirk

What happens when most people think of themselves as gods? Well, some will think of themselves as super gods and want to rule the rest of us. Gods can decide who can live and who must go. Start analysing what is happening in the world.


The Thought of the Month, September 2022
Michael W. Smith - Surrounded + Worship

When everything has become doom and gloom, there is one more thing that we can do, and it's to throw our crowns at the Lamb's feet. Our reality is in the Lord and we acknowledge it through worship.



This 60-Second Prayer Will Change Your Life!

"At twenty-one I was as far from hopeful as anyone could get. Maybe as far as you are now." These are the words of Cristina Baker as she considered her traumatic life: from childhood abuse to troubled teen years, to a descent into substance abuse, Cristina both understands and resonates how easy it is to lose hope. Until she meets the Hero of Hope, Jesus. Today, she is also a TikTok influencer.
Prayers That Will Bring Deliverance To Your Children

One of the most efficient ways the devil can hit and discourage Christians is through their children. Know that if you have the right attitude, you can counter his bad plans and lead your beloved to salvation.
Finding faith is a good thing, but meeting the real Christ is even better !
A dear friend recently said to me : "We must take Christ as an example, and there are many people who are christs in this world". As I was surprised by what he was saying, he specified that for him, good people are "christs" in their own way. I replied that many people are indeed indwelt by the spirit of Christ. But from there to following them in their particular views, there is a step I would personally not take. After explaining to him what I meant, he agreed.
"For many will come in my name, saying, 'I am the Messiah,' and they will deceive many" said Jesus. (Matthew 24:5)

What is true on the religious level is also valid in politics. Why is the world going through all this upheaval with transitional governments bent on change that are actually put in place by dark interests to undermine our constitutional values, with economies that are collapsing, others that are strengthened, the emergence of a health dictatorship, religious policies that lead observers to hate God himself and now, the threat of a third world war? If these circumstances were purely accidental, we would have a completely different approach to the problem. No, this precariousness and a climate of anxiety are voluntarily established and maintained to lead us to desire an authoritarian and strong political intervention, new laws, a form of centralized power and a new distribution of wealth. The explanation is simple: everything that God has put in place for our good, the devil hates it and he will be given for a time the possibility of destroying it. The collapse of our world has been carefully planned as part of a takeover of power, and believe those who study the phenomenon, we are not heading better times. It is now vital for everyone to find out where their lifeline is.


Bible Verses About False Teachers

"if you cannot prevent them from progressing, then lead them astray".
We have entered a period of great confusion. Not only in the world, where information is manipulated and biased in an attempt to condition us in order for us to accept the coming great "reset", but also in the churches and mainly those who are on the lookout for novelties. The reset is the way imagined by the deranged minds of modern sorcerers to rebuild the systems of thought and functioning of the world, on the madness of transhumanism, after having wiped the slate clean of our Judeo-Christian foundations. The general idea is that Christians have had their chance to prove the existence of God and to save the world, but now, man must become reasonable. He must support himself independently of morality and compassion and by all the means at his disposal, scientific and repressive, in the line of the evolutionary competition. In other words, it's okay to kill those who are weaker and less clever than us, because that's how we were able to bring ourselves into existence, and it is now the only solution so that humanity can survive a global starvation. This is what most of our intelligentsia has adhered to, and this is what you support if you vote socialist. God granted us two thousand years to try to civilize the world, it will now only take them about fifteen years to bring hell on earth. (Click to read more…)
You can also read more about how New Age has infiltrated the Church, HERE.
John Bevere: How Your Calling Will Affect Your Destiny

Lean in as John Bevere speaks about God's specific calling in your life and how it pertains to your eternal destiny.
I Wish I Could Show This Video To Every Christian Alive

Joe Kirby, Off The Kirb Ministries, wants to encourage us to get hold of every promise available in order to not get discouraged.



Ex-Witch Warns Witchcraft Expanding, Says Hollywood 'Releasing Spells Over the Viewers'

Musician and artist Jenny Weaver shares her incredible testimony of faith despite growing up in an abusive home and delving into witchcraft as a young woman. Now, Weaver warns that those dabbling in Wiccan are trying to unleash spells and it's even infecting Christians and the church.
Also: "My Story of Being an Ex Witch" Testimony.





What takes place in Vegas stays in Vegas? There is something very Strange about this Prophet

"But when you pray, go into your room, close the door and pray to your Father, who is unseen. Then your Father, who sees what is done in secret, will reward you". (Matthew 6:6). Could we hide from God what we are doing in secret? Certainly not. Yet what God tells us is, "I'll forget what you did, if only you would come home."



Derek Prince | What was the first Sin to have entered the World?

If you ask this question to people on the street, many will tell you that Adam and Eve bit into an apple which for them represents illicit sex. If that's what you believe, I'm going to have to disappoint you. But beyond this legend, what was this first sin? Well, it was actually pride and it was begotten not by Adam and Eve, though they allowed themselves to be infected, but by a group of archangels under the direction of Lucifer. Pride is taking credit for something that belongs to or has been given by another, in this case: God. Pride has affected every aspect of our life on earth, including sexuality. It swept through the created world like a tsunami, sweeping away some of the angels and men in a wave of rebellion and distrust of the Creator. Most of the religious endeavors of men, their achievements and their kingdoms, are the fruit of their pride and an attitude of rivalry, towards God first and towards each other. How did God deal with this state of affairs? How can we heal from our inherited pride and rebellion? The answer is in the cross, but maybe not in the way you think.



Amir Tsarfati: The Second Coming of Jesus

Often Christians see the Second Coming of Jesus and the Rapture of the Church as one and the same event, when in reality they are two separate events that will occur years apart and with different purposes. Join a Messianic Jew as he teaches what the Bible says about the return of Jesus Christ !



Amir Tsarfati: Jesus in the Old Testament

Amir will guide you through teachings from the Old Testament prophets, the Law of Moses, the Psalms, the Feasts of Israel, and the creation account, to show God is who He says He is! Christ Himself explained and proved He was the Messiah, using only the Old Testament since the New wasn't even written yet.



Amir Tsarfati: The Rise of the One World Religion

Is religion designed to make us all brothers, regardless of what we believe? Frattelli tutti? Shouldn't it rather be a means of making us all sons of the same God?



Power Pours Out Of Your Spirit | Curry Blake

This is a question many believers ask : Where does the power to heal the sick come from? Well, the answer might surprise you by its simplicity.
The Thought of the Month, August 2022
What is your archetype?
God gave us eyes to see and ears to hear, but he tells us not to conform to the present world. This pre-apocalyptic boiling, this shapeless and empty world in many respects which balances between an outrageous and asymmetrical capitalism and the impossible socialism of the godless, or between tradition and liberalism, is only a transitory world. So who will be my model, my icon, my idol and my God? Am I going to let propaganda and the media format me? Will I get tattooed, get involved into the esoteric and the neo-paganism, will I try a deviant sexuality? Or will I wisely follow the beaten path with my dog, and denounce those who break the rules? Am I going to refuse a reality that I find too sordid, and lock myself in my dream world, or drift on the waters with a supply of substances? Who hasn't gone through one or the other of these circuitous paths? The Bible, which is the wisest book you can read, says this: Safeguard your heart above all else, for out of it come the springs of life. We are educated in a way that we should hide our feelings, and these words can embarrass us. I still remember something that my friend regularly told me when she staggered on my arm at the beginning of our friendship: "Paul, are you ashamed of me?" Showing your true colors may cause others embarrassment. But vulnerability is the only path to freedom, and I quickly became very proud to be allowed to walk alongside a girl who was so honest in her feelings and otherwise very beautiful. I'll tell you more about her further down this page, but first, let's dare honesty. … (Click to read more)
Amir Tsarfati: Who is Your Icon?

With so many lifted by this world onto pedestals, it is essential that the icon that we strive to be like is the One whom God desires for us to emulate - Jesus. Join Amir Tsarfati for his new teaching in which he asks the essential question: Who is Your Icon?
Awaiting His Return

Pretoria, South Africa. Do we have any questions about the unfolding of prophetic events, the state of the diabolical union, the political traps set before us humans, the rapture of believers, the outcome of the ultimate war, the return of Christ, and the judgment that is coming upon the world and who will be counted as a sheep worthy to participate in the millennium, or as a goat? The Bible has it all. This 6 hours recording contains several sessions. Speakers include Pastor Barry Stagner, Pastor Mike Golay, and Amir Tsarfati, and there is also a time of Q&A.



Amir Tsarfati: Why Should Christians Support Israel?

Are our feelings towards Israel based on human sympathy? Frattelli tutti? Can we chose to love Israel or to hate it? Yes we can, but what does our stand really mean in the spiritual realm? And what is Israel, by the way?
The Thought of the Month, July 2022
Do you still have dreams ?
Did you know that the Australian Aborigines understood this before all of us? Since they call the time of creation: "Altjeringa", the Dreamtime. What I would like to point out here is that, even before bringing them into existence, God dreamed up every aspect of creation. "There was a dusk and there was a dawn...". God probably projected himself in spirit into his new achievements before bringing them into existence by faith. Among men, many great ideas and accomplishments are born of a dream. And maybe that's why harbouring dreams of a better tomorrow can be dangerous, as Martin Luther King, once Joseph, and before him his father Jacob, and in fact a multitude of others have learned. But as beautiful as their stories are, like us, Australian Aborigines need redemption. Jesus is also their Messiah, the one who is announced in their own culture and tradition. For it must be said that the most incredible dreamer of all time is undoubtedly Jesus. (Click to read more)
Let That Stuff Go: The True Story of Joseph | Voddie Baucham

The greater the trials imposed on people, the greater the achievements awaiting them. Because he had dreams, Joseph was hated by his brothers. But he became as God for the Pharaoh of Egypt. Jesus was rejected by his own people, but he was worshipped by pagan kings. Good for us but nevertheless, wrong houses, wrong lands, wrong covenants…
Founded in Lausanne in 1978, the NGO Mercy Ships focuses its efforts on the African Continent.

Two out of three people in the world do not have sufficient access to surgical care. More than 2,000 surgical operations and 8,000 dental treatments per year bring hope in Africa.
The Thought of the Month, June 2022
What is heaven and what is hell?
This illustration unfortunately merges in with the reality that many people are going through in these times of war. But if you are sent to a wonderful, a peaceful place, and you find yourself there surrounded by strangers, and these people ask you, "Did you come alone? Where are your parents, your children, your spouse, your friends and your relatives?" And that here you are forced to admit that you failed to take any of them with you and they are all in a place of great torment and suffering, what would the prospect of living for eternity with this reality be like? Instead of being a great joy, I think your eternity would be a nightmare haunted by many regrets, at the beginning at least. So why should I be afraid to name things as they are? Soon I will endeavour to explain to you what salvation in Jesus consists of, because there remain so many misunderstandings. But for now, think with me for a while on the value of our own lives and the lives of those we love…
It's a subject no one likes to think about, yet it has become the obsession of those who died unprepared. How and from what does Jesus save us? … (Click to read more)



Do you know that you are in terrible danger?

Have you ever had a near-drowning experience? You obviously survived, but you know how uncomfortable that experience has been. Well, I must warn you: Jesus said that those who don't let themselves be saved by him will have to swim for all eternity in a lake, moreover in a lake of fire. It sounds like a warning solemn enough to me, to act as if there is indeed a God, and not take the risk of finding out too late.



What is Suicide?

In this series of teachings, Jack Hibbs tackles a subject that few people like to talk about. Right now, an epidemic of suicides is sweeping America and many parts of the world. However, there is another form of suicide that is even more widespread and which remains ignored. Jesus said we have a common enemy who delights in plundering our lives, killing us, and destroying us. But he (Jesus) came to give us life in abundance. So, life or death is who we decide to listen to and believe.



The God Who Speaks (2018) | Full Movie | Alistair Begg | Darrell Bock | D.A. Carson

What authority does have the Bible? Well, authority and author have the same root, and if we can prove that the Bible is fake, then we can assert that God is too. And that is exactly what some strange people have tried to do, unsuccessfully. In this documentary, questions about the origins of our Bible are answered masterfully.
The Thought of the Month, May 2022
Have you found Somebody to Love?
Everybody Needs Somebody to Love is the title of a song created in 1964, if you're old enough to remember, and rocketed into the top ten by the Blues Brothers in 1980. Well, I have to admit that I have this strange feeling again after losing my soul mate, friend and accomplice for the past eleven years. Liliana had to fight for almost half of her life against Parkinson's disease. She left last February, freed from this cruel condition. I'm happy for her in a way, even though at fifty-four, she left far too early. … (Click to read more)



John Bevere: Your Destiny Requires a Wilderness Season.

John Bevere discusses his book, "God, Where are You?!" with Matt and Laurie Crouch on TBN's Praise. Listen as John Bevere shares how to overcome discouragement and have victory in the wilderness seasons of your life. Do we want to remain a complainer, or do we want to move forward as a gem in the making?



Be Angry, but Don't Blow It — Lisa Bevere.

The spirit is willing, but the flesh is weak says Jesus. Let's be honest: some of our traits of character can be crippling for our personality and destructive of family life. How do we get out of these inherited patterns and how do we find a balance?

The Thought of the Month, April 2022


Will our World be saved by the Efforts of man, or by Faith in God?
If you are a conservationist and a passionate lover of the Earth and all the wonders she holds, know that others are too and believe strongly in this wondrous rebirth of the Earth heralded in the Bible. However, this transition will not take place as some imagine, through the establishment of an authoritarian and "green" policy supported by transhumanism. It will not even be implemented by the work of the church, as the Catholic Church has believed it for centuries, and as the New Apostolic Reformation and the larger churches that are affiliated to this movement, like Bethel Reddings, wrongly suggest. This theology is moreover a by-product of the New Age. But if the Catholics are wrong and the main representatives of the evangelical movement are also wrong, how are things going to happen? Exactly as it is written in the Bible. There will be a great reset. But it is certainly not about the "reset" fomented by the financial organizations and mafias of this world, which will only push people into poverty and dependence on their governments. To understand what the Earth's problem is, you have to understand what man's problem is. We did not appear spontaneously on earth as some teach. Human kind is a family. … (Click to read more)



Jonathan Cahn: God's Hand on Israel Relates to the End Times.

Is Jeshuah a Christian? No more than God is a Jew. "To the Jew first": It's time to wipe out all man made barriers between our religious cultures. Jonathan Cahn, Bible teacher and best-seller author, shares his testimony. Also in this message: What lead to the Tree Of Life Bible translation.



Why This Atheist Scientist Became a Believing Christian

Born into a communist family, Dr. Sy Garte has lived most of his life as an atheist. But then science shook his beliefs and he became an agnostic. He was convinced that there must be more than matter and he finally encountered the Creator of all he studied. Today, he advocates the fact that there is no opposition between true science and the existence of God.



What Happens When You Die?

What happens when you die? Everyone has questions about death and the bible has lots to say about it. Jesus spoke more about hell than he spoke about Heaven, because as the lover of our soul, he doesn't want us to end there. In this teaching series, Allen Nolan helps us understand what happens when we die.
The Thought of the Month, March 2022
What is the common denominator between political and religious governments who don't know father and mother, the current leaders who make the headlines, characters like Stalin, Hitler and their model Nimrod, Cain, and a constellation of historical and biblical characters, and prior to them all : the serpent of Eden, Ishtar the Queen of Heaven, Lucifer and his angels? They are all evil? True, but in the Bible, Jeremiah says that the heart of man is deceitful above all things and desperately wicked, which may includes you and certainly me, and that's why Jesus had to lay down his own life in order to redeem us. So, if the common denominator is not our inherited wicked nature, what is it? You probably guessed it : it's jealousy. But why did these men, women, angels and semi gods, get so envious and jealous that they eventually became murderers? They became so because they saw the blessings that God bestowed upon their brethren, but they themselves did not participate. Not because God didn't want to bless them, but they wilfully deprived themselves from entering the blessings. They did so out of pride, as they refused to give up their rebellion. The truth is, they did not love this God who in his great generosity, grants to the innocent and the meek what Satan grants to conquerors. So they shut themselves to God, denying his very existence. And now, rather than change their minds and enter this great feast in which God invites all men for free, they organize their own celebration, by sacrificing their own children according to their principles. No need to look further for the meaning of this despicable war which will spread like an oil stain and contaminate the whole world. Behind the nationalist speeches and the well-rehearsed propaganda of the so called socialist or Islamist regimes, these belligerents have only one idea in mind and it's to destroy their brethren who have submitted to God in order to despoil them. They think that they took the big piece of the cake and fail to recognize that God has blessed them and that it could have happen just anywhere, even in a desert. Psalm 112. They are angry because their own unjust riches evaporate before they can enjoy them, and they do not recognize that "The blessing of the Lord brings wealth, without painful toil for it" as the Book of Proverbs says. Proverbs 10:22.
"Take care, therefore, that you do not say to yourself: 'It is by my own strength and my power that I have acquired all these riches.' Remember instead that it is the Lord your God who gives you the strength to achieve prosperity, keeping the agreement he promised to your ancestors, as it is today". Deuteronomy 8:17-18
"And God to lament: "Oh! if my people listened to me, if Israel walked in my ways! In an instant I would confound their enemies, I would turn my hand against their adversaries, and those who hate the Lord would flatter him. The happiness of Israel would last forever and you would be fed with the finest of wheat; with honey from the rock I would satisfy you." Psalm 81:13-16.
---
Why should we give meaning to our life ?
Why do we feel so often alone and unhappy in life, frustrated, unsatisfied, when clearly the created world contains all that is necessary for our happiness?  Sometimes it would seem that if only we could join with the right people, we would see the projects that are important to us succeed and experience a lasting fulfilment together. Why aren't things as we imagined, and why are they never definitively ours? Who is chasing us and our loved ones to put us through trials that are so contrary to our sensibility? … (Click to read more)



How to Live a Meaningful Life | With Greg Laurie

Do you wonder sometimes what you are really doing here on earth? In this very special message, Pastor and Teacher Greg Laurie will share the secret to a meaningful life.
---
What is the millennial Kingdom of Christ?
"There's a global suspense, faced with the rushing events. But if you are a Bible student, nothing that happens in the world today should surprise you. And if you're a follower of Christ, you have a new mind, a new heart, and you have peace and joy. The only thing left for the near future is the redemption of your body". Amir Tsarfati, Messianic Israeli.
Genesis 6, or the key to the Mystery.
In the Bible, it was announced that the Messiah would come twice: Once as a sin offering – the lamb of God – to redeem mankind, and a second time as Messiah and ruler – the Lion from the tribe of Judah – to reign over all the nations. This reign will begin with a thousand years of peace on Earth. (Click to read more)
"As it was in the days of Noah, so it will be at the coming of the Son of Man. For in the days before the flood, people were eating and drinking, marrying and giving in marriage, up to the day Noah entered the ark; and they knew nothing about what would happen until the flood came and took them all away. That is how it will be at the coming of the Son of Man".
Matthew 24.
"Now is the time for judgment on this world; now the prince of this world will be driven out. And I, when I am lifted up from the earth, will draw all people to myself." John 12:31-32.
"Very truly I tell you, whoever hears my word and believes him who sent me has eternal life and will not be judged but has crossed over from death to life.
Very truly I tell you, a time is coming and has now come when even the dead will hear the voice of the Son of God, and those who hear will live". John 5:24-25.
"As God's co-workers we urge you not to receive God's grace in vain. For he says, "In the time of my favour I heard you, and in the day of salvation I helped you." I tell you, now is the time of God's favour, now is the day of salvation". 2 Corinthians 6:1-2.



Exposing You to the Intellectual side of Christian Belief.

Do we have to cancel God from science? Can we discuss with people who have different beliefs? In his Capturing Christianity channel, Cameron Bertuzzi gathers many lectures and interviews by well known and reputable scientists. Also, many guest speakers who express their views and opinions in an interesting way.



The Rise of Russia and the End Times | Gary Hamrick

In Luke 21 and Ezekiel 38, Jesus and God, mention a list of events that are indicators that we are getting closer to His return. Among these things, says Jesus, there will be "wars and commotion" and "nation will rise against nation" and "kingdom against kingdom."



What In The World Is Going On? | End Times & Prophecy by Jimmy Evans

Russia, Iran, Syria, Turkey, China, Europe: what do all these belligerent nations have in common? The leaders of those nations will think at some point, "I am God and I can do whatever I please. I will crush and plunder this insolent 'holy nation' as it thinks of itself". Blinded by their arrogance, they not realize that God has put a hook in their mouth to bring them to the Valley of Josaphat to undergo their own judgment.



Ezekiel 38-39 | In a great battle the Lord will fight for Israel – Paul LeBoutillier

How and in what order will the events of the end times take place? The Bible describes this sequence of events with great precision. Given in 2021, this message takes a new dimension as of March 2022.



Amir Tsarfati: The Last Trumpet

In the Bible, the sounding of a trumpet often indicated that something important was about to happen. Amir also reminds the believer of how joyous it will be when we hear this final trumpet sounding – a glorious moment that by all indications is coming very soon.



Awaiting His Return

Mike Golay, Barry Stagner, and Amir Tsarfati will put a strong emphasis on Bible prophecy and encourage attendees to this seminary to be Awaiting His Return in light of the times and seasons!

Awaiting His Return Conference | Session 2



HAL LINDSEY - 60 - EXPLAINS THE END OF THE WORLD

Author of best-seller "The Late Great Planet Earth" reviews world-events in the light of Bible prophecy. The Bible is the only trustworthy source of knowledge and what was foreseen by Hal Lindsey thirty years ago has come to pass. What will the future of planet earth be? The Bible makes no secret of it and Jesus said: "When you will see all theses signs, you'll know with certainty that the Son of Man is at the door".



Living Waters

You say you are a good person. But are you ready to take the test? Don't wait until you have to jump to realize you have no parachute ! Some eye opening interviews.



Off The Kirb Ministries

You want to know the truth but you are fed up with the religious ways in which too many Christians convey the Truth? Well, there is a very interesting alternative !



Is Elon Musk a Christian Now? Listen to His Answer

Elon Musk recently had an interview with The Babylon Bee, where they discussed a variety of Christian-related topics, and Elon Musk gives more insights into his spiritual perspectives. Ray Comfort then shares the gospel with a woman who happily listens.
Also: Can technology really save us?



How I got healed from virus – David Hogan

Inimitable David Hogan. Most people will tell you how to fight a lion and they will run away from it, but David says: Go for it.
"If you get tired while racing against people, how can you race against horses? If you stumble in a country that is safe, what will you do in the thick thornbushes along the Jordan River?" Jeremiah 12:5

Listen also: I don't want your God, but I want your God to heal me.



The Day Approaching – Amir Tsarfati

In this message based on history and prophecy, Israeli Amir Tsarfati rises our hopes. As we enter times where many will bow to the devil, he reminds us that this is no time to dance on the tune imposed by this world, but rather to stand and to become aware. The Bible makes it abundantly clear that no one knows the day or hour of the Lord's return for His church. Yet the Bible is equally clear that there will be a generation that sees "the Day of the Lord" (the tribulation) approaching.
The Precious Blood of Jesus – Kevin Zadai

From Genesis to Calvary, it has always been about the blood and it has always been about the genetics. You have no idea how important it is for God that you are and that you remain a pure stock human being. But who would want to interfere with that and alter us? Who want to mingle their seed with the seed of men? Nimrod is after the blood line. He is after the womb. He wants the inheritance.
Curry Blake – Opening Your Spiritual Eyes

What do you see? Do you see the doom and gloom or do you see the bright and victorious side? What is reminded to us in this message can make an enormous difference in our life.
Amir Tsarfati: The Millennial Kingdom

What is the "Millennial Kingdom"? Why do so many Christians struggle with it? Is it a real kingdom with a real king? Who is going to reign? Where? Why? How is that future kingdom related to the importance of believing in Jesus today? Answers to these questions and more in this message!



Amir Tsarfati: The Book of Revelation

It is probably the least read book in the whole of the New Testament although it is written that there is a special blessing for those who read it. However, we need to be guided to understand it. In this short and clear description of the book, Amir Tsarfati takes us out of the confusion that has led many Christians to believe that they will go through these tribulations.



Amir Tsarfati: What is our Blessed Hope?

What we believe will decide how we live our life. Have we embraced the "Kingdom Now" theology? Or do we think we will have to endure the tribulations that the world will experience to earn Heaven? Well, let it be according to your faith, Jesus would probably answer. But Amir instead encourages us to believe in a God of love who keeps his promises. For where your treasure is, there your heart will be also.
---
Free the captives

This morning as I walked through the house, I heard a familiar wing beat coming from the veranda. A young chickadee, probably wanting to explore that place, had come in through the open door and had found itself trapped by the many windows. … (Click to read more).
"All who have come before me are thieves and robbers, but the sheep have not listened to them. I am the gate; whoever enters through me will be saved. They will come in and go out, and find pasture. The thief comes only to steal and kill and destroy; I have come that they may have life, and have it to the full".  John 10:8-10
---
Romans 8 :
The Revelation of the Sons of God.

Are we all children of God? In a generic sense, probably. But can we say that we are his sons and daughters? I once shared with a friend what I had come to understand from reading the New Testament. I was a fresh convert at the time, I had sought God alone and I was still a stranger to the political correctness that befits Christian circles. I smoked, swore, drove a small sports car and sometimes lied to hide the shameful habits that I couldn't shake. I was undoubtedly not like you and I had my share of contradictions… But, I was all fire all flame as they say, enthusiastic by the new horizons which opened to me while God was revealed gradually through of my readings of the Bible, moreover not being little proud of my discoveries. I was looking for other believers so that I could share common experiences with them, and this friend then crossed my path. He had bathed in evangelical circles for a long time and had been through Bible school. In his eyes, my double life was an open book that probably spoke louder than my words. So when I proudly announced to him that I had discovered through my reading that we are all sons of God – a real revolution for a child of Catholics, even renegade to his tradition –, he hastened to calm my ardour. "We're just adopted sons," he explained. And it is true that our Bible affirms that "in Jesus, God elected us before the foundation of the world, so that we may be holy and blameless before him, having predestined us in his love to be his adopted children by Jesus Christ, according to the good pleasure of his will " Ephesians 1. This correction was undoubtedly partly deserved, but it had broken me in my tracks. ... (Click to read more)
The only hope for man to survive his passage on earth is to use the time allotted for his earthly pilgrimage to become the spiritual being he is supposed to be.
BEAR WITH ME

Life is a precious, yet often wasted treasure.
Even if sometimes, adversity makes us perceive our life as an ordeal, we are probably grateful for it and we remain expectant of the good things it will bring along. Life is the vehicle that allows us to explore the world in which we were born, and to build the character that will clothe our identity. … (Click to read more)

Is Christianity a Religion?
"What sets the disciples of Jesus apart from the rest of the world including most Christians and myself, is not so much what they know or what they believe, but it's rather what they do with it".
Millennia of religion have gathered a huge knowledge base. And yet, for most of us the true face of the Creator remains as elusive as ever… The general observation is that the world has not changed much. Balances are still based on military power and not on equity, and therefore peace remains precarious. All are looking out for a strong man who will tackle our important issues and lead the world with authority. This will only set us back. Hope for a better tomorrow could nevertheless lie within a man. … (Click to read more)
Why is the door that gives access to the Kingdom of Jesus so narrow and why is its path difficult to find ?
Matthew 7
Anyone who has not read the Bible is doomed to believe what others are saying about it. And since the truth rarely matches the ideas of the greatest number… A man of God recounts that, while he was still young, he had a vision, and this experience changed his way of considering the world. Before his eyes was moving forward a great crowd formed of all the peoples of the earth. Each displayed its peculiarities. People were beautiful and they were proud of their culture. … (Click to read more)
"Very truly, I tell you, anyone who hears my word and believes him who sent me has eternal life, and does not come under judgement, but has passed from death to life". John 5:24

The only way we can survive our passage on this earth is to make the most of the time of our earthly pilgrimage to rediscover our spiritual identity.

Only if you become born again, will you see the Kingdom of God !
With these words, Jesus announced the Good News to Nicodemus, a Pharisee who, although he was a good man considered eminently educated in the principles of his religion, could not really grasp what the salvation announced by Jesus was about. "No one can enter the Kingdom of God unless they are born of water and the Spirit", Jesus said to him again. But wait, did Jesus not to tell the good thief crucified with him that he would be with him in Paradise on that same day? So what, is it not enough to repent? Why would we need the Pentecost experience to be admitted in Heaven? Well, there is a misunderstanding amongst Christians. If we were brought up in the Jewish tradition, we would know that Paradise and Heaven are not the same place. I just listened to a message by Amir Tsarfati which settles this question with brio. Jews are second to none when it comes to understanding the Bible, even more when they are born again. The Kingdom of God is a spiritual place of government, but Paradise is an earthly place. Paradeisos is the part of Hades that the Jews believe to be the abode of the souls of the righteous until the resurrection, also known as the "bosom of Abraham". For instance when he died, the poor Lazarus in Jesus' story was carried by the angels in Abraham's bosom. But the rich man of that same story fell in Hades. Even though they could see each other from far and perhaps exchange a few words, their condition was diametrically opposed. One was resting with the saints, but the other experienced great discomfort, to say the least. And there was that bottomless pit in between them that no one could get across. So yes, you can be admitted in this paradise if you repent and chose Jesus' way. But to be admitted in God's Council, or if you prefer, in the Kingdom of God, is another thing. And it is certainly there that we must look for the meaning of these improbable words that Jesus said one day to his mother, and which can be perceived as hurtful if we don't understand his point : "Woman, what have I to do with you?". Without rejecting the human person, Jesus excludes nonetheless his mother from his divine council. Elsewhere, Jesus will also mention that he came to establish a division, and this right into the families. So from now on, there would be two kinds of human beings, even within the same blood line? This is exactly what the Bible teaches.
Resume things after a bad start.
We all know the natural man since we are born in that condition. Endowed with great sensitivity, industrious, cultivated, religious enough to consider God and the good, he is an artist capable of magnificent achievements. This man who lives by the thoughts of his heart is certainly not devoid of interest. But he has also a darker side. And if there is one thing that history must teach us, it's that, as evolved as he may be, the natural man only repeats the patterns that are inscribed in his genes or in his heart. Therefore, all his efforts to gain a higher perspective will prove largely vain. As Blaise Pascal noted: "Man is neither angel nor beast. And unhappily, whoever wants to act the angel, acts the beast". This angelic man, precisely, has taken hold of the noblest being that the Earth had ever worn, and he has made him his king, after having silenced his royal claims by nailing him to a cross. God of course had anticipated our intentions, that's why he entrusted Jesus with a radical solution. Formerly, the waters of the flood swept all flesh from the ancient world, but soon the dove of the Spirit picked an olive sprout. Jesus is this olive branch. Even though he came from the tree of the patriarchs in the line of King David, he did not claim his royal descent. Instead, he revealed himself as the Son of God by the Spirit. "Flesh gives birth to flesh, but the Spirit gives birth to spirit", he said. But then, what is the spirit?… (Click to read more)
The Dead See.

This wonderful teaching by Amir Tsarfati answers many questions we might have about what stands beyond death.
Who goes Where?

There is a lot of confusion when it comes to God's sovereign plan regarding the afterlife. Where does the soul of the believer go immediately after physical death? That of the unbeliever? What does the Bible say about those who lived and died in the Old Testament? The Apostle Paul taught clearly that not all of us would die before being gathered to the Lord Jesus. Daniel, John the Apostle, and others spoke of multiple resurrections, but who's partaking in each of them and which resurrection will you partake?
The Bema Seat of Christ.

Few understand that judgment is awaiting the believer as well; a very different judgment however. Where is the bema seat of Christ? How can we get there? When will that happen, and how will it be?
What happens at the final judgment?

What does God say about our eternal fate? Jesus said that we should not wait to be there to think about it, at least if we don't want to bitterly regret it. The Bible shows us that nobody can escape the final judgment. But for some it will be a judgment for punishment, while for others it will be a judgement for rewards. What will decide in which category we belong?


A great Philharmonic without its Conductor : such are the World and the Creation without the Word of Christ.

He sent them his Word and he healed them.
"Why did God allow this to happen?" Who do you think, puts that question in our mind? Who is the one who kills, and who then has the audacity to insinuate that God did it, or that he had so decided? Who will pretend that sickness is sent by God to teach us something? Who says, it's all the will of God, and doesn't want us to take power over our circumstances? See, we attribute without hesitation to God, intentions that would surely send a man to prison. … (Click to read more)
"If you only knew the free gift of God and who it is that is asking you for water ..." said Jesus to the Samaritan woman. "Salvation comes from the Jews", he said also. Saying that, Jesus thought less about the Jewish religion, the temple, the law and the priests, than about the incredible destiny of what at the beginning was not even a people, and which now was allowing him – he the Son of God –, to stand by this well, without any means for drawing water and forced to rely on a stranger and a woman, while he was the Messiah – the one who was supposed to fill the earth with the knowledge of God "as water covers the bottom of the sea". From his birth until his resurrection, this quite unique manner that Jesus had to take part in the lives of people : the righteous as well as the outcast, those who suffered under the rod of self-appointed warriors of God, the poor in spirit, the blinds who did not see the plan of God for their lives and the deaf who did not hear his call, the crippled of life, the relational lepers, the left out of love, those who could have been reproached all kinds of things – and who finally represent us –, and then to invite them to participate with him in the advent of a new world, – as if God depended upon us, imperfect men, to finalize the work of his creation – amazed people and answered a deep yearning, pre-existent in the hearts of many. Today, the invitation remains, and to accept it opens us the door on the most formidable adventure that we can live here on earth.
---

Resources

Falling Plates – Four minutes to understand.

A multilingual video to share.

the Spirit of your Father who speaks in You.
"If you remain in me and my words remain in you, ask whatever you wish, and it will be done for you. This is to my Father's glory, that you bear much fruit, showing yourselves to be my disciples". John 15:6-8
Though, the greatest among you shall be your servant.

The Last Reformation – The Movies

God, in our days, is bringing back the simple truth of the Gospels and of the Book of Acts, that is: "Go into all the world and preach the Good News to all creation". What is this Gospel or good news? – God is with us and he proves it by healing the sick, by kicking out demons and by bringing the souls into intimacy with Him. This reality has the power to set us free from unbelief and to make us able to walk in a new lifestyle of faith daily.

• The Last Reformation IN GENEVA



Kingdom of God in Japan

The message of the cross is anything but comfortable and the way of Jesus is not flattering for our ego. But when Christians agree to die to themselves, to let Jesus reach people in order to heal them and set them free, the blessing is shared and their own life takes on its true dimension. 2 Timothy 3:10-13



Back to the Gospel in Geneva

A return to the true gospel is absolutely necessary. Most church people today are more interested with building a structure for entertainment than with sharing the redeeming truths of the gospel. This last reformation, which concerns us all, is simply a return to the desire to live the resurrection life of Jesus in a personal and practical way. This movement of the Last Reformation should not, however, be confused with another movement whose name is similar: that of the New Apostolic Reformation of the Church of Bethel, which unfortunately promotes New Age Christianity enforced with sentimental music and positive manipulation, and which should be reformed from within. The renewal of the 21st century will begin with an underground awakening, an encounter with Christ directly or through his disciples, a humble, personal, but genuine movement.
• KINGDOM OF GOD IN SINGAPORE – People set free from demons after water baptism
• KINGDOM OF GOD IN ITALY – Faith is for everyone.
• THE LAST REFORMATION INTL. – We believe that the Church is facing a new Reformation !
• THE LAST REFORMATION – AND THE PIONEER SCHOOL COURSES

---

Video sharing websites are a great tool for the sharing of faith and knowledge. But they also serve to spread wrong concepts and unsavoury content. It is possible to activate a content filter and to block disturbing ads.
Being shown a false image of the Christian reality, millions of people are definitively driven away from what could have transformed their lives, and the devil knows how to exploit our naivety

.
Sticking to the expression of frozen traditions, or otherwise, fostering an undiscerning atmosphere of sentimental exaltation, or simulating, or intellectualizing, or even using religion to settle accounts with society, are expressions of a diverted spirituality. Because of what it represents, the Christian faith has been hijacked or perverted in all possible manners. We have turned into self exalting celebrations or in vain ranting, when not in religious parodies, what God had originally intended as a means to reach others with His compassion. How do we know if our conception of God and the expression of our faith are real and genuine? "You will know the Truth and the truth shall set you free", says Jesus. … "But, what is the truth?", retorted the devil through the mouth of Pilate. That's why God has given us an infallible criterion of discernment : His written Word. … (Click to read more)
---
Prayer, Worship, Testimonies and Miracles, Teachings.
Have you ever wondered where Joy comes from?
I was reminded lately to place joy at the top of my list of priorities. In this day and age where the devil has come once more to steal, kill and destroy, it is of utmost importance to remember that "the joy of God is our strength". That joy will allow us to withstand the bad days, to resist viruses and other threats, and to achieve our purpose in life which is advancing the Kingdom of God. I now remember what a friend was telling me when as a young man I made my first moves into faith after being wrecked on the rocks of adversity : "Don't let anyone steal your joy!" And indeed, my greatest breakthroughs have always come when I gave up my wise mistrust and trusted God instead.
… And if being a disciple of Christ was above all: taking pleasure in being in God?
God's Accessible Joy – By Roland Worton

How many of us know the place that joy has in the Word of God? In this timeless message, we are reminded that beyond our trials, there is an eternity of joy to be inherited. And it starts right now.
PRAYER
"But when you pray, go into your room, close the door and pray to your Father, who is unseen. Then your Father, who sees what is done in secret, will reward you. And when you pray, do not keep on babbling like pagans, for they think they will be heard because of their many words. Do not be like them, for your Father knows what you need before you ask him".  Matthew 6. "God resists the proud (those who have too high an esteem for their abilities) but he gives loving-favor to those who have no pride. So give yourselves to God. Stand against the devil and he will run away from you. Come close to God and He will come close to you".  James 4.
PRAYERS – How to trust Your life to God in Prayer

Praying with sincerity is very effective, even more so when we pray according to God's purposes for us and for others. With the help of the Holy Spirit, let's learn to pray Bible-inspired prayers.
Why our Prayers are not Answered.

But most importantly, how to pray prayers that are effective. God wants to teach us to be effective in prayer and it is one of his most compelling desires to make things happen through our prayers.
Be healed in Jesus name, through this Prayer.

Jesus has paid a high price for us to be made perfectly healed and whole. Healing prayer - powerful by Curry Blake.



Lecture: Curry Blake on Prayers of Faith.

One of the most life transforming experiences for me was discovering how God views prayer. I was outspoken in real life, but through my religious education, I would have embarked on a sentimental tug of war with God when it came to asking him something, as many Christians do. Come to think of it, I don't like people turning to my feelings to get something from me, so why would God be any different? In absolute terms, God has placed everything we could wish for at our disposal. If we collaborate with him by learning to pray in a mature and engaged way, we will become much more powerful spiritually and we will see results.
"Build up, build up, prepare the road! Remove the obstacles out of the way of my people. For this is what the high and exalted One says  – he who lives forever, whose name is holy: "I live in a high and holy place, but also with the one who is contrite and lowly in spirit, to revive the spirit of the lowly and to revive the heart of the contrite. I will not accuse them forever, nor will I always be angry, for then they would faint away because of me – the very people I have created".   Isaiah 57:14-16
IT ALL STARTS WITH A PERSONAL MIRACLE

Receiving the Spirit of Jesus, also named the Holy Spirit, is the greatest gift that we can receive from God. When we submit our life to God and receive salvation, it is not to remain in passiveness. On the contrary, his Spirit will indwell us and start renewing our mind. He will lead us in all truth. He will give us a powerful prayer life. He will even give us new prayer languages to help us in the weakness of our flesh. We can experience drought in our mind, but the stream of God remains full of water. Speaking in those spiritual languages will build us up. It is the key to gaining spiritual power and dominion over sickness and on any of the devil's means of oppression – if you wondered why so many "Christians" fight this gift from the pulpit, now you know. It taps into the supernatural of God. It starts in a babble and turns into a roaring as needed. It is a language of love and intimacy with God, and a weapon of mass destruction against the forces of evil. All of God's people who are mighty at front, use it extensively in their prayer life.
| | |
| --- | --- |
| | John Bevere – Different purposes of speaking in tongues. |
Experiencing Praying in Tongues

Tongues are the language of Heaven. Freeing your inner man by speaking those spiritual languages will heal you and bring awareness of the Glorious Presence of God in your life.
---
Worship Him who is worthy to be praised
When we Praise our God, he becomes a refuge, he is Heaven on earth, a Bulwark against adversity.

Your salvation will be in peace and rest, It is in calm and confidence that your strength will be. Isaiah 30:15
I cry out: Praise be to the Lord! And I am delivered from my enemies!  2 Samuel 22: 4
Therefore put on the full armour of God, so that when the day of evil comes, you may be able to stand your ground, and after you have done everything, to stand.  Ephesians 6:13
"No man's life stands in the abundance of the things he possesses".  Increase your capital of enthusiasm to withstand the bad days.
Life-transforming praise is not an emotion of the soul but it is a spiritual commitment.
To worship is to express the highest form of gratitude. Praise leads to abandoning sin, returning to righteousness and the willingness to commit ourselves. We praise God for his deeds and for his extraordinary character. God is the Rock of Centuries who will never change.
When we worship we are being transformed into the nature of the One we Worship. (2 Cor 3:17)


Wonderful Praise songs in Hebrew Language


Keren Silver
Bible and Angelic Praise in Hebrew Language


Sasha Anya   Poberejny


You who seek world peace, pray for the peace of Jerusalem, for from its true restoration will flow healing for all the nations of the earth.

Baruch Adonai L'Olam

"Blessed be Adonai, God, the God of Israel, who alone works wonders. Blessed be his glorious Name forever, and may the whole Earth be filled with His Glory". Psalm 72.

God has always had a purpose for this earth and he does not change His Mind. "The rulers conspire against him and work to their own destruction, but God laughs at their plans. Soon, all nations will come to Zion, His holy Mountain, to Kiss his Son and celebrate his rule". Psalm 2.

Among people of my generation, many have been indwelt by the dedicated songs of Keith and Melody Green.

Here is one of Keith's quotes: "The only music minister to whom the Lord will say, "Well done, thy good and faithful servant," is the one whose life proves what their lyrics are saying, and to whom music is the least important part of their life. Glorifying the only worthy One has to be a minister's most important goal!"
Don Francisco

Meaningful Songs for a Saviour who is so Real.
BeBe & CeCe Winans are an American gospel music brother and sister duo.

Once heard, never forgotten.
| | |
| --- | --- |
| | Great artists by themselves and awesome when they teamed. Michael W Smith and Amy Grant' scripture based songs have their way in the hearts of many. |
| | |
| --- | --- |
| | Fernando Ortega. Hymns revived, and his own Beautiful Songs and Music. Healing for Soul and Spirit. |

Above all else, protect and guard your heart. For your heart is the spring of your life. Prov. 4
SoakStream Healing Scriptures

This is a work that I discovered only recently. Do you know how God revealed himself to Elijah after ignoring his might and the strong elements? Listening to Scripture verses read with conviction and meaning brings awe and love for our wonderful God, and it heals us.
---
Christian Artists
"In your prayers (and praise songs), do not repeat heaps of words, as the pagans do; they imagine that by dint of words God will hear them. Do not imitate them, for your Father knows what you need before you ask him." Jesus, in Matthew 6.
Jesus regularly asks us to be more authentic and personal in our relationship to our God. True Christian artists are also prophets. They distance themselves from what the crowds follow, in order to shake our certainties to bring by their words or their form of expression, a deeper understanding of our realities. What is "Christian" and what is not? Let us be careful not to become simply religious, that would be to deny Jesus. I think there is more to a lost artist who authentically searches for the truth than there is to hundreds who have found what they were looking for by complying to what the crowds want. I wish to add more links to this chapter in the near future.
The Christmas Monologues that wrecked us.

Four actors illustrate the beauty, pain, longing, and ultimate joy of this story through the lens of our senses.
Chi Coltrane – You were my Friend.

The idea of being one day buried in the ground was unbearable to the little girl. She wanted to go straight to heaven, like Elijah. Her songs later soothed a young man's aching heart, and they are still a blessing today. Chi Coltrane does not promote herself as a Gospel singer, but her work carries a sense of true holiness, which is awe for someone's integrity. And that's what Christian culture should convey: As Children of the Most High, we live in a world doomed to sin where we stand as Children of Light.
Akiane Kramarik – Art is a prophetic Gift.

"Blessed are the pure in heart for they shall see God". Many people know how to put themselves forward through their art. But those who can speak of the source, the gestation and birth, sometimes in pain, and the meaning of this expression, are much rarer. I knew nothing about Akiane Kramarik until I discovered recently her prophetic passion for the One who makes our world so beautiful. The way she truly lives what she expresses as "an awareness of our moral duty and responsibilities, and the harmony of spiritual purpose and freedom to live our dreams", is an example for all who express in a form of creativity.  Actual.
Whatever you do, do all for the Glory of God.

If you plan to buy photo equipment, you know the value of tests and reviews to comfort you in your choice, and sometimes avoid being disappointed. Christopher Frost is an awesome reviewer. His reviews are objective, simple and generous, and his muse has this mysterious Monalisa smile that makes you want to learn some secrets. But he doesen't make a secret of his love for our Lord, and whether in reviews or in testimonies and teachings, Christopher always shines.
Nightsounds hosted by musician Bill Pearce.

This American nighttime radio show was broadcast locally by a Christian radio station some 40 years ago. I can't believe that so many years have passed in the blink of an eye… The miracle radio station is kept alive through thick and thin by the most persevering influencer I know – thank you Ron –, and Bill Pearce continues to express his exquisite wanderings every night, through the recordings. I still do sometimes listen to the soothing stories, when peace of heart seems elusive.
---
DOCUMENTARIES AND TALK

Is Genesis History? What is the Genesis paradigm?

So much in our scale of values depends on how we perceive the origins of life and of our Universe. The conflict, when there is one, is not that of science against religion, on the contrary. Rather, views diverge on the true history of our cosmos.
The God Who Speaks

What is the Bible? Where does it come from? Can we trust it?
A documentary that traces the evidence for biblical authority and reliability.
A Matter of Faith Movie – How do Christian kids survive the educational cursus?

"A young girl is influenced by her popular Biology professor, who teaches that evolution is the answer to the origins of life…"
Stephen Meyer: The Return of the God Hypothesis

Our Western culture is the only place where scientists have taken the option to deny that there is an intelligent design. But what are their hypothesis? As Sir Isaac Newton said: Gravity is a tendency for unsupported bodies to fall.
James Tour: The Mystery of the Origin of Life

Same atoms arranged in a different way, turn what we consider worthless into something of great value.
| | |
| --- | --- |
| | Amir Tsarfati was born in Israel to a Jewish family. From his youth, he was in the middle of a conflict both out and within. During his studies, he saw the movie "Jesus" and decided to be born again. As a major in the army and a negociator, former governor of Jericho and the Jordan Valley, he has invaluable experience. He now shares on the Behold Israel Channel as well as in conferences worldwide, what many consider to be extraordinary insight into political matters as well as in Bible prophecy. Alternative Vimeo Page. |
| | |
| --- | --- |
| | Raised in the Holy Land and born-again since a little boy, Dr. Kojoglanian learned to include God in everything, especially in his work! In this great interview, top cardiologist shares in a powerful way the basics of faith survival. If you still have questions about late times events, you may find here many answers in a nutshell. |



Why This Atheist Scientist Became a Believing Christian

Born into a communist family, Dr. Sy Garte has lived most of his life as an atheist. But then science shook his beliefs and he became an agnostic. He was convinced that there must be more than matter and he finally encountered the Creator of all he studied. Today, he advocates the fact that there is no opposition between true science and the existence of God.
From same speaker : Why 89% of biologists do not believe in God?
---
Lifeturn TESTIMONIES
We weren't made to face life alone. An anthology of testimonies of lives transformed by an encounter.



700 CLUB INTERACTIVE

The 700 Club Interactive is a place dedicated to prayer, uplifting stories, positive Christian news, encouragement and community. Connecting the dots between faith and culture and addressing the hard questions like: what's my purpose? How am I living out God's love? What's my role as a Christian in today's culture? In the face of war and chaos and uncertainty, how do we keep our hope? How do we live out our faith?
"Everything you have been told in your life, is a lie".
That's what many people who strive to become something else, should be told.
Alisa Childers - My Story

As a former CCM recording artist and life-long follower of Jesus, I experienced a period of profound doubt in my early thirties. This is my journey out of unreasoned doubt into vibrant, intellectually informed faith.
Alisa was part of the music group : ZOEgirl



Ex-Witch Warns Witchcraft Expanding, Says Hollywood 'Releasing Spells Over the Viewers'

Musician and artist Jenny Weaver shares her incredible testimony of faith despite growing up in an abusive home and delving into witchcraft as a young woman. Now, Weaver warns that those dabbling in Wiccan are trying to unleash spells and it's even infecting Christians and the church.
Also: "My Story of Being an Ex Witch" Testimony.


At Breaking Point…

Elizabeth-Joy was raised as a Christian and she knew about Jesus' love. But are Christians protected from depression and suicidal thoughts? She was to discover that all it takes sometimes to save someone's life, is a : "Hello, nice day isn't it?"
From striving and never be good enough, to being a beloved.

I lived a broken life of depression, abuse, self hatred and eating disorders, but His love set me free forever. And my story can be YOUR story. My name is Melissa Faisst, and this is my Jesus testimony. Christianity doesn't have to be complicated, it can actually be cool and we want to equip you to find your purpose and walk in your God-given destiny !



Are you haunted by the thought of ending your life?

Tamara LAROUX – Testimony. What she thought would put an end to her pain propelled her in absolute horror. She suddenly became pain, she became fear, she became death… But as she fell down in the pit, God extended his hand to her.

The Tamara Laroux's Story – How children can pick up wrong feelings about themselves, when their parents don't love each other the way they should.
• Al DIAZ – His very moving testimony. Al died during a surgery, then he went to heaven and met Jesus.
Dr Mary NEAL's amazing story.

She drowned and resuscitated.
• Krissy NELSON – From

loneliness to Adoption

.

There is more than one way to drown in life. This courageous lady with a childlike heart tells how she found her own path, to her Father's arms.
He says, the stories of people who've come back will change how you see life forever!

John BURKE – studied nearly 1,000 near-death experiences.

– Imagine Heaven, with John Burke
– Another interview, with Sid Roth
• Jim WOODFORD – He died. Look What He Saw in Heaven !

Yoga and the Occult: Ex Witch Tells All

Yoga is a very popular form of fitness in this day and age. It is touted as a perfect way to relax, get fit, and become more spiritually aware. However, yoga is actually a form of spiritual alignment with the kundalini spirit, aka the goddess Shakti. Watch as Beth shares her experiences with yoga, how it affected her life, and how it was used in satanic ritual abuse.
Lisa Bevere | A Life Laid Down – Or how to Forgive

We must forgive our parents – Yes, but you don't know my father, he is making a hell of our relationship – Yet there is healing in forgiveness, and there is salvation for our family members. Who said it would be easy? If it were, Jesus would not have had to die on a cross.
Incredibly courageous Witnesses.

The awesome story of two young Iranian ladies who both met Jesus in a spernatural way, and who joint their efforts to spread the Gospel in their country, despite the death sentence. It is also a warning of how, when a country's Christian religious freedom is taken for granted and not protected, it can be taken away and replaced by some cruel satanic rule.
I Found Myself in Hell.

The Reason Why Will Surprise You.
I was a suicide Bomber Candidate !

But then I met Jesus and I went from Hell to Love !
Listen to what Işık ABLA has received.



Testimonies: Muslims meet their Messiah.

Muslims discover the Truth about Jesus Christ. "Moderate Muslims are not the enemies of Christians and Jews. But because they have been prevented from accessing the Truth, they remain locked in an erroneous knowledge of the person of God, of his principles and of his will for mankind. Most Muslims are basically good people who love God fervently and who wish to suppress intractable and conquering Islam in order to live in peace with their neighbours. But they struggle to enter into the presence of God and to obtain his blessing, because they are looking for the gateway where it is not to be found ".
I'm About to End My Life, and…

Tracy Leigh was a young girl when she was exposed to pornography and abused. The surrounding she grew up in brought a craving for sin. She eventually wanted to take her life. But then, a knock on the door…
Everyone who believes in him will never be disappointed.

Call on Him when you are in distress. Don't tell the wild river where to go, jump in and swim. Kim Meeder tells a few stories that will leave no eye dry.
How God taught Becky DVORAK about the spirit of death and how to defeat it.

Rare diseases, accidents, premature deaths and all kinds of mayhem are often the signs of the presence of a spirit of death. We can conquer it.

Betty DVORAK – What if you could defeat sickness by prophesying words of healing?
YEARNING - Film on the Life of Christians in China.

"They strengthened the spirit of the disciples, urging them to persevere in the faith, and saying that it is through many tribulations that we must enter the kingdom of God". Acts 14, or when the Empire strikes back.
Advice: As with any film or movement, seek the guidance of the Spirit and stay with what is biblically founded. The commentaries are a very loose and paraphrased interpretation of Jesus' words.
See also: Chinese Films.




Chinese student book on religions, calls Jesus a sinner and a murderer.

To what extent are we ready to compromise with the truth? In exchange for some freedom in exercising their religion and be allowed to appoint bishops in China, the Catholic Pope is expected to renew a deal with the CCP. This agreement authorizes a rather unconventional translation of a New Testament excerpt, in which, instead of saving the sinner caught in adultery, Jesus exercises judgment on the woman and stones her himself.
Testimonies of Messianic Jews.

In Israel, many believers openly express their faith in Yeshua, and even more live their faith in a discreet or hidden manner.
The Forbidden Chapter: Isaiah 53 in the Hebrew Bible.

See how deeply Israelis in the streets were moved as they came face to face with their Messiah!
Why Religion will never be a Base for Peace.

An eye opening documentary realized in a place where three "sister" religions meet.
| | |
| --- | --- |
| | The 3 main Reasons Jews Don't Believe In Jesus. |



Amir Tsarfati's Testimony

Amir Tsarfati was born in Israel to a Jewish family. From his youth, he was in the middle of a conflict both in and outside his home. During his studies, he came in contact with messianic Jews. After he saw the movie "Jesus", he decided to become a born again Jew. His Jewish roots now allow him to share highly regarded teaching, on Jesus in the Tanakh for instance. As a major in the army and former governor of the Jordan Valley, he has an acute insight in world events, particularly Middle East.
A renowned Jewish Scientist makes his most beautiful Discovery of all, within Judaism.

The honest and very convincing Testimony of James Tour.
The Greatest Commitment

"Callings come when we least expect them". Jim CAVIEZEL gives his Testimony before a Catholic Youth audience, and talks on how taking the role has forever changed his life.
Coming out of the Shade

Nobody can claim to be a self made man. Denzel WASHINGTON recalls the background influence that his mother, and others who put God first, have had on his destiny.
Denzel Washington's Life Advice

Don't make ghosts of the gifts you've never used. You'll never see a U-Haul behind a hearse. If you have a dream, go for it with the help of God.
Every Knee shall Bow

Celebrities thanking GOD (and JESUS!) in their acceptance speech.
Grace For Purpose

Don't just Believe – Act on it, Even in a Struggle!
---
The essential
"In the world of men, each question brings up more questions. In the world of God, each question finds its answer and every problem that arises has its solution, prepared from even before the foundation of the world."
The beginning of wisdom is when we eventually believe all that we read in the Bible, and not just what our experiences would allow us to believe.
"Why do you look for the living among the dead?"  Luke 24

People who have found God have one thing in common: They have overcome their prejudices, to seek God in and with all their heart. God meets people who like him, are passionate.

"Then you will call on me and come and pray to me, and I will listen to you. You will seek me and find me when you seek me with all your heart. "I will be found by you," declares the Lord, "and will bring you back from captivity." Jeremiah 29:12-13
Since "God so loved the world that he sent his one true Son so that whoever believes in him shall not perish but have eternal life", for "while we were still sinners, Christ died for us", it is obvious that God loves and understands all human beings much better than we could, and that he has a plan for their rescue. Jesus is invisible to the eyes, but we who believe have become the body of Christ – his arms, his heart, his voice – here on Earth.
– But what does God mean by "perishing"? We don't read the Bible and we are alive and well ! … Yes, but the question is : for how long? The Bible says that our life is a vapour on the ground. The sun rises : it is gone. But it continues elsewhere, and if we were not rooted in the Word of God but have followed horoscopes and psychics and have worshipped substitutes, we will end up in horrific moral suffering, because this is what having believed in lies leads to on an eternal scale of time.
Rather than beg God to accede our piecemeal requests, even if there is nothing wrong with that, let's understand that God has a plan and that by collaborating with our Heavenly Father, by praying and declaring the new realities, we will contribute to "His will being done on Earth as in Heaven". An attitude that is in accordance with his Word will earn us the full attention of "the angels, those ministering spirits sent out to serve (accompany, protect) those who are about to be saved". Hebrews 1:14, Psalm 103:20
How are Christians related to Jews and reciprocally?

"Again I ask: Did they stumble so as to fall beyond recovery? Not at all! Rather, because of their transgression, salvation has come to the Gentiles to make Israel envious. But if their transgression means riches for the world, and their loss means riches for the Gentiles, how much greater riches will their full inclusion bring!"  Paul, Jewish and Christian apostle, in his letter to the Romans 11: 11-15.




Jesus in the Torah and the Prophets — ישוע בתורה ובנביאים 

One of the prejudices introduced by religions consists in believing that the Torah and the Prophets are for the Jews, and the New Testament for the Christians. Jesus was a Jew, his Apostles were Jews, and all their teachings were based on the Scriptures of their days. Jesus pointed out that all of the Scriptures point to him and designate him as the Messiah – which the teachers of the law refused to consider, because Jesus did not have the outward appearance they expected from a chief of war. An in-depth teaching, by Amir Tsarfati.



Jesus, Man or God? 

The deity of Jesus Christ is something that has been under fire throughout the centuries. In fact, to the New Testament authors, it was one of the determining factors as to whether or not someone was holding to the truth. Does Jesus exemplify the same divine characteristics of the God we read about in the Old Testament? Is believing in the deity of Jesus necessary for one's personal salvation? Amir Tsarfati and his special guest, Dr. Seth Postell, get to the bottom of that question.



Why is the Cross a Stumbling Block for the Jews? 

While the symbol of the cross has been interpreted in various ways for thousands of years, it's the message of the cross that remains consistent regardless of one's background. Knowing this, what does it mean to carry your cross? Why is it that the Jews reject the message of the cross? Will they one day accept it? Follow Amir Tsarfati as he takes you on a tour of the history of the cross and what it means for the past, present, and future of the Jewish people.



Ethos or Ethnos: Who Are the Real Jews?

Abraham was a descendent of Sem, but so are the Ismaelites and some of the Iranians. So what does the word Jew mean? Is one Jew by the father or by the mother? Or by a conversion to a specific revelation of God? Or has the word a broader meaning? Has the Church replaced Israel and the Jews? Does the New Testament imply that Israel of that time is no longer Israel? The questions are of utmost importance and yet there is such confusion. For instance, who rejected Jesus? Was it the Jews as a people or was it the fringe of the religious caste who sat in Moses' seat? The word Jewish covers different realities depending on the context in which it is used. Join Amir Tsarfati and his guest, Dr. Golan Broshi, as they make their case biblically and historically as to the identity of the real Jews.
Prophetic Words for Today
Our help is in the name of the Lord, the Maker of heaven and earth. Psalm 124
In these perilous times, God wants more than ever to have our attention. Mind control is invading the earth through the "regular" media. But things are not as they seem and God has another point of view that he wants to bring forward. The new millennium promises to be extraordinary. It will begin with a wedding banquet of cosmic proportions. But for us to eventually enter the promised era of prosperity and peace which will be placed under the jurisdiction of his Son, God will have to judge the corrupt systems of this world, in other words, to sweep the house. The process will shake the whole world and will leave no structure nor religion or individual belief unscathed. Times will become increasingly difficult. But do not lose heart for God is in control. He has provided and will continue to do so, for all who love him and who invest their trust in no man but in him.
Experiencing God's Faithfulness

An Evening with Anne Graham Lotz, daughter of evangelist Billy Graham.  – Lessons from Daniel's Prayers – Daniel 9: Praying God's promises back to him. What will save the land is not a political party and it is not a new president. But it is God, pouring out his Spirit on his praying people.
You've been Appointed for a Time as this – Bruce Allen.

We can see the times we live in as a threat, or we can see them as a tremendous opportunity. What makes the difference is who owns our heart.  Session II



The Days of Ezekiel – Amir Tsarfati

What are the signs of His coming? Years ago, in 2014 I believe, my mind was turned upside down by some teachings I listened to about blood moons, stars alignment, mystery of the schemitah and other mysterious harbingers. I ordered books that I never had the time to read. I was believing that the world was not going to make it for another year without a major catastrophe. This awareness had at least the benefit of shaking me in my spiritual sleep. But what is Jesus more pragmatically saying about the earthly signs preceding His coming?
Also: 2018 Amir Tsarfati – Ezekiel 37-38-39
| | |
| --- | --- |
| | By far the best message I have heard on this subject. A theme which should be at the center of every Christian life. |
AMAZING prophetic INSIGHT

"Yehudim ask for otot and Yevanim seek chochmah. But, we proclaim Moshiach and nivlato al haEtz".   1 Corinthians.

The Gospel isn't just words, but it's the supernatural power of God for the salvation–body, mind and spirit–of whoever believes. When Jesus' own people get hold of the truth of the Gospel, you can expect something mind blowing and life changing !


DISCLAIMER : ISN Network offers an open tribune to many guest speakers who for probably the most part are outstanding men and women of God, with amazing stories to build our faith. However, due to the times of increasing non biblical or New Age views and values creeping into the church, please, exercise your discernment.
---

BEWARE OF COUNTERFEITS – New Age has come to the Church

We are the heirs of a religious unconscious rooted in Greco-Babylonian culture. This apparent piety prevents us from moving in true faith. Why the does the encounter between man and his God not take place? Man imagines that God barricades himself in the holy and in the vertuous. He therefore seeks to impress him by building cathedrals, or by celebrations and by elevating what in his own eyes is noble and worthy. … Whereas our God who is humble at heart according to the Bible, resists the proud and he simply wants to meet man in the truth of a contrite and humbled heart. These parallel trajectories, which therefore never meet, sum up the history of religions. Imagine having no contact with your parents except through intermediaries. How will you know that what those intermediaries are telling you about your parents wishes and their feelings for you, is the truth? Since immemorial times, God is like the father of this prodigal son, who sows unconditional love in order to restore the family links. But like the elder brother in this tale, the religious man satisfies in running the business without caring the least for the feelings and dreams his father has for him and for his family. Whether one is lost in rebellion or lost in religion, the result is finally the same : It is the solitude of the Father, and that of his Children.
The apostle Paul expressed his pain at seeing how his own people refused the Gospel, simply because its glory remained veiled to their eyes due to their prejudices. Paul states, in 2 Corinthians 3, that, just as in the past, the Hebrews in the wilderness refused to contemplate the glory of God who illuminated the face of Moses, believers who cling to the tradition and refuse to be baptised in the Holy Spirit, have their mind blinded by the god of this world, so that they do not see the shining of the Gospel of the glory of Christ, who is the image of God.
Today we see a growing number of churches and Christian youth movements adopting a new theology supported by other spirits from the esoteric world. There again, these young people are blinded by the god of this world who manipulates them through their charismatic leaders. This is a matter of deep concern and the reason why I speak frankly about this subject.
| | |
| --- | --- |
| | This Has Already Started Happening. |



Amir Tsarfati: Exposing the New Apostolic Reformation, with Pastor Michael Nissim.

The Bible says that the Church was built on the foundation of the apostles and prophets. Can the Church appoint new apostles and prophets today to override Jesus' apostles? What exactly is the New Apostolic Reformation and what dangers does it pose for believers? Who started it? When? Why? Does the Bible confirm this theology?
TEXT Version



Bethel and Bill Johnson's Bridge to the New Age and Spiritual Fakery.

Bethel Church in Redding California has presented itself to the worldwide body of Christ as a guide for deeper and more miraculous spiritual experiences. This is the bait. But what about the truth?
How is New Age manifesting in the Church ?
OK, here comes the bad part. Everyone is beautiful, everyone is nice? You know its not that way. We have a good Jesus, a magnificent Jesus. But part of our apprenticeship is learning how to unmask the bad and the ugly. One of the most effective ways the devil has devised to ruin the lives of Christians is to counterfeit the conduct of the Spirit of God – in words, in thoughts, in dreams and even in manifestations. Awareness of this fact should be a fundamental point of the Christian doctrine. But we often prefer to ignore it, because we don't like confronting people's ideas, and sometimes from our own misconception of what unity in diversity is about. The truth however is that, whenever people want to hear nice things, the devil will take advantage of them. But God will NEVER tell us to do something that is against his principles. Therefore, if we are Christians, we should yield every decision to the Lordship of the Spirit of Christ who dwells in us. And most importantly, we must know the Bible and test every decision on the basis of the Word, the circumstances and the times, in order to be able to recognize the sabotage manoeuvres of Satan.
Lolium temulentum. This name probably doesn't tell you much if you are not a farmer or a botanist. But the common name of the plant is probably more familiar : poison darnel or rye grass. Absorbed accidentally in the bread, the mould associated with the seed produces nausea and makes the subject stagger like a drunken man, and in some cases causes death (source: Wikipedia).

Matthew 13 - The parable of the tares sown among the wheat. But what in the world is Jesus talking about?

I heard it said: "If it's in the Bible, then it is not new. And if it's really something new, then it's probably not biblical" – Let's learn how to recognize those teachers, churches, counterfeit worship and manifestations.
BETHEL CHURCH: Incorporating New Age Mysticism, Spirit Guides, Messengers, New Outpouring, Spiritual Invasion, Healing Energy, Grave Sucking and more…. (Click to read more)



Amir Tsarfati: The Rise of the One World Religion

A new religion is emerging and it is spreading rapidly. Contrary to the conquests of the past, this development is taking place without war, for the time being. In fact, followers of many other belief systems quickly adopted it and incorporated it into their doctrines. It is a religion of ecumenism without judgment, of well-being, of acceptance of everyone regardless of their lifestyle. Only one group of people is excluded from this new world religion …
"Dear friends, do not believe every spirit, but test the spirits to see whether they are from God, because many false prophets have gone out into the world. (…) You, dear children, are from God and have overcome them (the false spirits), because the one who is in you is greater than the one who is in the world". 1 John 4.

"Then if anyone says to you, 'Look! Here is the Christ,' or 'There He is,' do not go out there". (Jesus)
---

why has god set rules FOR sexuality?

Everything in our world has been organized through what we call, the laws of nature, in order to reach a climax. As an intelligent being, man has even more rules to keep in order to reach his full potential. When these laws are overlooked or disrupted, we experience chaos and loss of meaning. One half of teenage marriages in America are shotgun weddings between people who are incompatible, and one half of those marriages break up within two years. Why? God made rules, not to deprive us of having pleasure, but to allow us to build a harmonious future while protecting our future marriage.
God loves the homosexuals as much as he loves the heterosexuals. Jesus never rebuked anyone for the motive that he or she was a sinner. The simple reason for this is that we are all sinners, even more those who consider themselves righteous ! But that doesn't mean that God approves all sexual behaviours. Jesus said of himself that he is the God of Abraham, and therefore the requirements he placed on us are no different than what the Scriptures have always said. What Jesus has renewed, is the spirit in which we serve God, namely : from the forgiveness of sins and the gift of the Holy Spirit. But we should be careful not to think that God is endorsing all sexual behaviours, whether happening in a straight sex or same sex context. Assuming that we would not be all equal, some would want to change the rules to allow those who feel different to express their embarrassing desires with legitimacy. Feeling different can indeed represent great suffering, and this should leave no one indifferent. Every soul should have the right to love and to be loved with peace of mind. But rather than offering an oxygen mask to those who are suffocating, shouldn't we rather restore everyone's ability to breathe ? … (Click to read more)
The Biblical Way To Date

The Bible shows us many ways people got married. But what is the genuine way God sees marriage? Marriage will not fix your problems, so approach it the right way.
How To Know They Are The ONE

Vlad and Lana go through 13 red flags that you should look out for and avoid while cultivating a relationship. They share the difference between real love and obsessive love and answer your questions at the end.
When God Wants You With Someone This Will Definitely Happen - God's Message For You Today

When God wants you to be with someone, when that person appears, they will be eager to immerse themselves in your life. They will be willing to put themselves on the line just to show you that they love you. Like I said earlier, you must also be knowledgeable about the love of God to recognize it when you see it in the actions of another human toward you. You cannot recognize what you have not known before. Giving is a strong sign of love. Anyone God brings your way, must be a giver.
• When God DOESN'T WANT You With Someone | These Things Will Happen - Gracely Inspired
Genesis 24 – Jon Courson

Not only is Jon Courson a great Bible teacher, but he is also a genuine man. He teaches here on the character and the role of the Helper, the Holy Spirit. His teaching is supported by many striking illustrations from the Bible, such as the story of Isaac and Rebekah.
Love Stories : Isaac & Rebekah – Brooke Hoss

You will be moved by the approach of this beautiful story that Brooke Hoss is leading us into and by its ramifications in regard to the greatest wedding of all times.
The Story of Rebekah and Isaac – Sarah Diaz

The secret to being led into a great marriage is to allow God to build our character. A deep and meaningful teaching brought by Sarah Diaz.
Only TRUE Believers Can See The Signs

There is a flood currently sweeping across the world. The deadly wave will take away all who overlook true knowledge. Be on your guard and take action.



The Four Stages of Sexual Sin - Understanding You Need About How Union With A Partner Will Affect Your Life.

Before even considering a sexual relationship, there are things that you should know about sex and how it makes its way into your mind. These things are certainly not taught at school, and rarely in churches. Yet they are of utmost importance for they will affect your whole life. This short video is absolutely worth watching.
The Four Effects Sexual Sin has on People.

Why have mores changed to the point that people are despised and harassed when they want to preserve themselves for their future husband or wife? There is a purpose behind that harassment, and we should know everything about it.



The Best Sermon for the Younger Generations.

The Bible says that "The Lord said : It is not good that man should be alone. I will make a helpmate for him. And Adam knew his wife Eve and they became one flesh". That word "knew" carries a sense of deep intimacy. God created marriage for three reasons: It was given to propagate the human race. It was given for climax of true love within marriage. It was given so that a man and a woman could express the unity between them, and God likens it to Christ and his church. Sex out of wedlock is sin, but sex in marriage is a blessing.
How we worship Demons through Entertainment.

Entertainment has it's origins in the worship of the ancient Greek God Dionysus. How can we safeguard ourselves and our families from the destructive influences of sexual and other sins spirits? The first step could be listening to this teaching to better discern what we invite in our life and in our home.
Discovering God has reconciled me with my Femininity.

The environment in which we evolve can rub off on us, and sometimes more than we would like, especially when as teenagers we are looking for role models. Some will force themselves into a deviant path, while others might feel a deep discomfort in it.
Carlos Catari – An ex homosexual Testimony

"I had learned this mannerism in order to fit in the gay world. One day my Mum asked me : Carlos, if you hadn't been abused as a child, would you have become gay? That question made me think…"
Amy Grant's Version of Love - Biblical Expert Responds | Tipping Point Show | Jimmy Evans

Is God picking on the homosexuals in particular in the Bible? No he is not. But he is saying that any person who lives and practices immorality, which is uncompliance to his rules for love, will not inherit his Kingdom. We are not told to just love one another, but to love God first and to love our neighbour like Christ loved us.
Don't buy the Lie that you can't Change.

The opposite of homosexuality is not heterosexuality, it is holiness. Living a holy sexual life means sometimes having no sexual life, or for a time. But it hasn't to be so. Gays and lesbians aren't born that way. Otherwise the countless testimonies of those who say that they were set free, would be lies. There is real hope. Part II



John BEVERE – How God Delivered me from Pornography.

Let's be honest : porn is now everywhere and it has one of the most powerful grip on us once we have succumbed to it. Until we understand how God sees his children who are enslaved in the lie that this is love. Then we start condemning ourselves, but we are unable to break free. All addictions have ill effects, but this addiction is particularly destructive of self confidence. This is certainly not unrelated to the epidemic of suicides that affects ministers amongst other people. Another side effect is untrustworthiness, responsible for the breaking apart of couples and families. The good news however, is that it is easy to never lust again, once we have reached the point where our motives for repentance are right.
I had Traded my Life for a Virtual Reality.

In this very honest testimony, James recounts of what has unfortunately become the common story of many young people. He became addicted to games and to Internet pornography. Until he realized that pursuing such false gods was going to make him lose his soul for all eternity.
Check also James' Channel.
No one had told me the Truth about Dating.

So many young people are hurt and affected in their lives as single or married people, because of the way relationships take place in our society. Everyone will benefit from hearing what Torben Søndergaard shares, on experiences from his own life, and what the Bible teaches about dating, sex and marriage.



How my Husband and I met.

After meeting God, meeting our partner in life will probably be our greatest event and the most decisive for the rest of our life. The two are linked together more than we may think! But how will we know that we have met the right person? Well, each story is peculiar, but keeping priorities is essential not to be mislead. In a nutshell: Stop looking for a partner to fill the gap, and look for God. He is the Architect and the matchmaker.
Pastor survived his mother's attempt to abort him and urges women to choose life.

I share all of this because so many women are told today that, if they are pregnant and their child is unwanted, they should just have an abortion. I am living proof that this is not the answer. There are many ways to let that child live. Even if you don't want the baby, someone else does, and God has a plan for that child. Jack Hibbs.
Simple Wisdom


11 Types Of MEN That Will Ruin Your Life

It's important to trust your instincts and prioritize your own well-being in any relationship. We will show the signs of a toxic relationship and just general dating advice on men you should never date. If you are looking for dating advice, this is a perfect video for you as you will learn behaviors that can destroy relationships, so be sure to watch so you can avoid these relationship conflicts.
10 Types Of WOMEN That Will Ruin Your Life

if you want some dating advice on the type of women you should not date, this video is for you. We will be covering dating red flags that are commonly seen in toxic relationships with toxic women. These are some of the most common modern dating mistakes people make, so be sure that you date a person who is not only truthful and also respectful of your boundaries.
---
How to acquire the spiritual tools applicable to health problems and to many other problems.
Coronavirus, locusts, hail, storms, droughts, fires, earthquakes, tsunamis…
"Here on earth, you will have many trials and sorrows; but cheer up, for I have overcome the world."   John 16:33
This world's system happens to be a counterfeit of the world originally designed by God.
Healing is not a reward. It is not a rare privilege as some religious currents would have us believe. It is available to everyone, but it remains the stake of a spiritual combat. In order to know how to implement healing, we must gain an understanding of the conflictual context in which we live to understand the detestable place disease occupies therein.
"We realize that we are from God, while the whole world is controlled and harassed by the Evil One."   1 John 5:19
Lessons from the Book of Enoch
Perhaps because of censorship or not to anger the authorities with the Bible, the Book of Enoch was removed from our Bible centuries ago. Yet, this book is about the Messiah. Jesus himself quotes it and the apostles mention it in their writings. Enoch prophesied very important matters for our time, including the fate of the spirits that control our world, and the liberating role of the Messiah. Allow me here this short personal interpretation inspired by parts of its contents …
What attitude should we have towards disease and contagion?
"Do not be afraid, little flock, for your Father has been pleased to give you the kingdom. Luke 12:32
"I am sending you out like sheep among wolves. Therefore be as shrewd as snakes and as innocent as doves". Mat 10:16
"I have given you authority to trample on snakes and scorpions and to overcome all the power of the enemy; nothing will harm you". Luke 10:19
Lessons from Easter for the Times of Confinement.

Rabbits, eggs, firs or pumpkins – they will not save us. Prophet and rabbi Jonathan Cahn brings back to our minds some of the true life saving values that are embedded in our faith.
How to handle the fear of the coronavirus ? Declare Yourself Healed.

Cast all your cares upon Him, for He cares for You, says Peter. He bore our sicknesses at the cross, so that by his stripes we were healed, says Isaiah. Powerful healing prayer by Cindy TRIMM.
Be healed in Jesus name, by this prayer.

Jesus has paid a high price for us to be made perfectly healed and whole. Prayer by Pastor Curry Blake.
"If you falter in a time of trouble, how small is your strength!"  Prov. 24:10
Fear is a magnet that attracts all kinds of ailments and diseases, because fear involves punishment and therefore, a bad conscience. Jesus delivers us from all condemnation, and his Spirit casts out all fear. Full faith placed in God acts as a protective shield that prevents many forms of evil from affecting us, and as a lever capable of reversing situations.


Two Wolves — Feed your faith, not your fear.



NO PLAGUE

Curry Blake addresses the coronavirus menace by exposing some of the scriptural bases, for relying on God for spiritual protection. And most importantly, he explains how spiritual protection works, and how we can apply it to our lives. A very relevant message.

• "No Plague" Part 1 — "No Plague" Part 2
• Your Spiritual Immune System – The Three Levels of Protection
• Ephesians 6 – Our Weapons against COVID19 - March 29 Update

"The message they heard was of no value to them, because they did not share the faith of those who obeyed".  Hebrews 4:2
How to ad Faith to the Word preached?

Want to be protected? Stop allowing your mindset to be shaped by watching the news. Hispanic Christians renamed the Coronavirus: Caidovirus. Even crowned, he is overcome by Christ. Come out of fear and have a sense of humour. Our main enemy is not a virus, but spiritual wickedness in high places. Message of April 5.
"You who are strong, may your freedom not be for your weaker brother, an opportunity to fall" 1 Cor. 8
Love is patient and it does not presume. Faith in divine protection does not exempt us from keeping the rules issued by the authorities in matters of prevention and from having a civic behaviour. If you don't care, don't blame your preacher.
FEAR VERSUS FAITH
The expression "Peur bleue" (blue fear) was used by doctors in the 19th century, to describe the condition of some patients. They had noticed that people who where experiencing anguish or who were panicking, had a cyanic complexion due to poor oxygenation. But some will trace the expression back to the Middle Ages, when the plague spread across Europe. The grey complexion of people who had the disease would be at the origin of the expression. The populations were seized with a "blue fear" at the approach of the "black death", the great grim reaper who has neither judgment nor moods. Many doctors today, know that fear predisposes us to get the sickness we dread – it could be cancer, or it could be a bad flu. The somatization of mental disorders or weaknesses, is a recognized medical fact. Job, in another era, said : "What I dread is exactly what I get !" Fortune tellers make a business out of this principle. However, medicine is not drawing the appropriate lessons from this teaching, mostly because, in that discipline, financial interests mingle in with reason. Fear has been shown to weaken our immune defences. Our organs start to malfunction. One can even die of fear, by anticipating a great danger. This is something we are seeing more and more in these times of a pandemic. …
---
Psalm 91

Whoever dwells under the shelter of the Most High (Elyon) rests in the shade of the Almighty (Shaddai).
2 I said to the Lord (YHVH Adonaï), my refuge and my stronghold, my God (Elohim) in whom I trust.
3 For it is he who delivers you from the net of the bird-catcher, from the plague and its ravages.
4 He will cover you with his feathers, and you will find refuge under his wings. His loyalty is a shield and a breastplate.
5 You shall not fear the terrors of the night, nor the arrow that flies by day,
6 Neither the plague that walks in darkness, Nor the contagion that strikes in the middle of the day.
7 Let a thousand fall at your side, and ten thousand at your right hand, you will not be hit;
8 Only with your eyes will you look, and you will see the retribution of the wicked.
9 For you are my dwelling place, O Lord ! You make the Most High your refuge.
10 No misfortune will happen to you, No plague will come near your tent.
11 For he will command his angels to keep you in all your ways;
12 They will carry you on your hands, lest your foot strike a stone.
13 You will tread on the lion and on the asp; you will tread on the lion cub and the dragon.
14 Since he loves me, I will deliver him; I will protect him, since he knows my name.
15 He will call on me, and I will answer him; I will be with him in distress, I will deliver him and I will glorify him.
16 I will satisfy him with a long life, and I will show him my salvation (Yeshuw'ah, Yeshua w).
---
How can we place ourselves under divine protection?
"Stay in the shelter of the Most High and rest in his shade", suggests this psalm. Let's be clear: What we are going through right now is not an apocalyptic plague, not yet. Mad scientists seem to have played with fire, and corruption at many levels has done the rest. These trials are nevertheless allowed by a loving father who wants to draw the attention of his children. Sometimes, a lioness will bring back a living animal to her cubs to teach them to use their weaponry. God does not want us to suffer these things as punishment, but He wants us to turn them into opportunities to show him what we can do. "Out of the eater comes something to eat. Out of the strong comes something sweet" said enigmatically Samson. "When a lion or a bear came and took a sheep from my father's flock, I ran after him, I struck him, and I tore the sheep from its mouth. If he stood against me, I would grab him by the throat, hit him, and kill him." David got his start in dealing with a few foxes as a kid, and later with bears, and even lions, before tackling his Goliath and the enemy armies of the Kingdom of Israel. We are warriors. God did not put us on this earth to provide food for microscopic viruses. Someone told me that surprisingly, it is not the people of the favelas that are the most affected by the virus. This only half surprises me, because people who live in a precarious situation have learned to fight in order to survive. Illness is a spiritual enemy and those who over-trust readily available medical care have often lost their own ability to fight. They even tend to welcome sickness as a normal thing of life or as part of the ageing process, which makes the business of an entire industry. We must forbid sickness to approach us, or our house and our loved ones, and the name of Jesus and the power of his blood give us that authority.  … (Click to read more)